KUALA LUMPUR, Malaysia (CNN) -- Police fired tear gas and water cannons and arrested 157 people to quell a protest Saturday against a colonial-era detention law.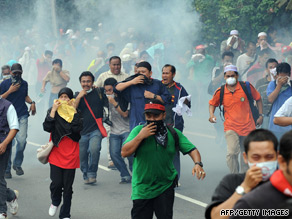 Protesters in Kuala Lumpur flee after police open fire with tear gas.
The demonstration in the Malaysian capital Kuala Lumpur was aimed at abolishing the Internal Security Act, which allows authorities to indefinitely imprison people deemed security threats.
State-run news agency Bernama quoted Kuala Lumpur Chief Police Officer Datuk Wira Mohammad Sabtu Osman as saying that 5,000 police were mobilized on the streets.
He said the 157 arrests were made as a security measure to prevent people from gathering.
Protesters were also demanded the shuttering of the Kamunting detention camp, where those detained under the act are held.
E-mail to a friend

CNN's Mark Phillips in Kuala Lumpur, Malaysia, contributed to this report.