SRINAGAR, India (CNN) -- A pair of attacks Saturday that killed two policemen and critically injured a third shattered a recent lull in violence in the summer capital of India's Jammu and Kashmir state.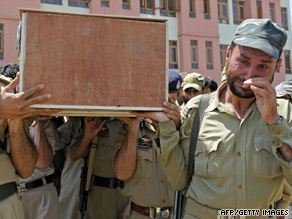 Indian police carry the coffin of a colleague murdered in an attack on Saturday.
In the first incident that occurred in a bustling Srinagar central market, militants shot two Indian policemen in the head, police said. One of the critically injured officers died on route to the hospital.
A half hour later, in a nearby neighborhood, a policeman was shot in the head at close range, killing him instantly, police said.
No arrests have been made so far, police said, and no one has claimed responsibility for the attacks.
Jammu and Kashmir is India's only Muslim majority state.
A two-decades-old insurgency in the state's Kashmir region has claimed the lives of thousands. India accuses Pakistan of fueling militant groups who want predominantly Hindu India to cede the territory to Pakistan.
Human Rights Watch has found that both Indian security forces and militant groups are responsible for "numerous and serious abuses."
E-mail to a friend