By Gabriel Falcon
CNN





(CNN) -- An international search is under way for a 29-year-old Auburn University veterinary student who vanished under what appears to be unusual circumstances in Thailand.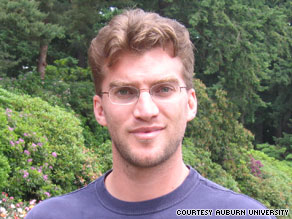 Michael Griffin Harrie, 29, disappeared earlier this month during a vacation in Thailand, Auburn University says.
The family of Michael Griffin Harrie is pleading for help in locating him. "We just don't know what happened to him," Paul Harrie told CNN about his missing son. "I now know the meaning of living a nightmare."
In a media release, Alabama's Auburn University said Harrie, a second-year student at the veterinary school, was attending a summer study abroad program in Morioka, Japan. He informed a professor he was going to take a one-week vacation with friends to Bangkok, Thailand, that would begin on July 7.
"He said he would be back on the 14th," his father explained. But Harrie never returned to his studies. And when he failed to meet up with his parents in Tokyo on July 16, they reported him missing.
The investigation into Harrie's disappearance is being led by Bangkok police. The American Embassy in Thailand has also been notified, and Auburn University has dispatched two representatives to Japan.
"The role there is to provide assistance to the family," Auburn University communication director Michael Clardy told CNN.
The best clues to finding Harrie appear on video.
Harrie's father, who hired a private detective agency to assist in the search, said surveillance tape from Bangkok's Suvarnabhumi airport on July 14 shows his son entering the airport but then exiting the terminal before checking in for his flight. Why would he suddenly turn around and leave remains a mystery.
Efforts to track him through automated bank transactions also add to the complexity.
His father said his son stopped withdrawing money out of ATM machines a day earlier, on July 13.
While his family calls Harrie an avid traveler, Paul Harrie said his son's behavior is out of character.
"The idea of picking up and not telling anyone is very unlike him. He likes to explore areas but always under some sort of controlled circumstances so we know where he is going. The concern is he didn't tell anybody where he was going," he said.
The worry was heightened on Tuesday because Harrie was not on his scheduled flight home to the United States where his veterinary school training was to resume in the fall. His family, desperate for answers, has a message they hope will reach their missing loved one.
"If anybody sees him, please ask him to contact us," Paul Harrie said. "We love him, and we are worried sick about him."
Michael Harrie is from the San Francisco, California, area. He has blue eyes and brown hair, wears eye-glasses and is 5 feet 11 inches tall and weighs 175 pounds. The Auburn University Department of Public Safety and Security is asking for anyone with any information on his whereabouts to call at 334-844-8888.
E-mail to a friend