YANGON, Myanmar (CNN) -- Final arguments in the subversion trial of Myanmar opposition leader Aung San Suu Kyi unfolded Monday.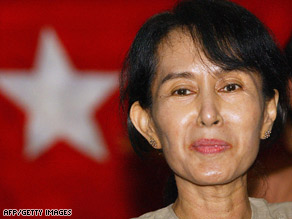 Myanmar opposition leader Aung San Suu Kyi has been held in confinement for 13 of the past 19 years.
Lawyers for the American man who allegedly swam to Suu Kyi's house are expected to present closing arguments, as is the defense team representing Suu Kyi's two housekeepers.
Suu Kyi's lawyers presented their concluding remarks Friday.
Soon, prosecutors will offer their final say -- also expected Monday. It was not immediately known when a verdict was expected.
A diplomatic source said a recess will likely follow, and a verdict could come one to two weeks after that.
As usual, security in and around the courtroom at the Insean prison compound near Yangon was tight.
Trucks full of police officers idled outside as proceedings got under way Monday.
Suu Kyi and her housekeepers are being tried on charges that stem from a May 3 incident.
That day, an American, John William Yettaw, allegedly swam across a lake to her crumbling, colonial-era home and stayed for two days.
The government said Yettaw's presence in the closely guarded home violated Suu Kyi's house arrest.
The country's regime rarely allows Suu Kyi any visitors, and foreigners are not allowed overnight stays in local households without government permission.
Suu Kyi said she doesn't know Yettaw and didn't know of his plans, and denies any wrongdoing. She is charged with subversion.
If convicted, she faces up to five years in prison.
Yettaw, a 53-year-old former military serviceman from Falcon, Missouri, testified repeatedly that God had sent him to Myanmar to protect Suu Kyi because he dreamed that a terrorist group would assassinate her.
He is charged with violating immigration laws and trespassing. The charges carry a maximum sentence of five years in prison.
A lawyer selected by the U.S. Embassy is representing him.
Suu Kyi has been held at Insein Prison since May. The regime denied a request by U.N. Secretary General Ban Ki-moon to visit her, though she was allowed to speak to her lawyers before the closing arguments to go over 23 pages of closing arguments.
Suu Kyi, the iconic face of democracy in Myanmar, was placed under house arrest in 1989. The next year, the National League for Democracy won more than 80 percent of the legislative seats in the first free elections in the country in nearly 30 years. But the junta disqualified Suu Kyi from serving because of her house arrest and annulled the election results.
Her supporters say Suu Kyi's latest arrest is meant to keep her confined so she cannot participate in the general elections that the junta has scheduled for next year.
International pressure to release Suu Kyi has been mounting. At a meeting of southeast Asian nations in Thailand, U.S. Secretary of State Hillary Clinton spoke on Suu Kyi's behalf.

"It's so critical that she be relapsed form this persecution that she has been under," Clinton said. "And if she were released, that would open up opportunities, at least for my country, to expand our relationship with Burma, including investments in Burma."
The ruling junta changed Burma's name to Myanmar in 1989. The United States still refers to the south Asian country by its former name because it does not recognize the legitimacy of the military regime.
E-mail to a friend

All About Myanmar • Aung San Suu Kyi