NEW DELHI, India (CNN) -- Despite a confession by the sole surviving suspect in the Mumbai terror attacks and his lawyer's offer to withdraw from the case, an Indian court said Thursday that it will continue with the trial.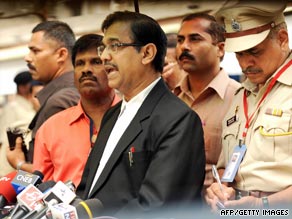 Chief public prosecutor Ujjwal Nikam downplayed offer by Kasab's lawyer to withdraw from the case.
Mohammed Ajmal Kasab, 21, stunned the court Tuesday when he admitted his role in the attacks on India's financial capital, which began on November 26 and continued for four days and three nights.
Prosecutors said Kasab's guilty plea was an attempt to deflect attention from his alleged handlers in Pakistan. Kasab is a Pakistani national.
Special public prosecutor Ujjwal Nikam said he needed to examine more witnesses to shed light on why foreign nationals, among others, were targeted in the November siege.
Nikam told CNN that the prosecution has requested that the court summon six foreigners, including FBI officers, as witnesses in the trial. He said their identity would not be revealed.
The court is expected to rule on his request Friday, he added.
On Thursday, the judge of the special court trying Kasab said it will take up his confession at a later date. For now, prosecutors will proceed with the 2-week-old trial and continue to hear from the rest the 150 witnesses they have lined up.
"He has changed his stance repeatedly. So I have requested the court that he is operating on an ulterior motive and that the trial should continue," Nikam told reporters.
Nikam also downplayed an offer by Kasab's lawyer, Abbas Kazmi, to withdraw from the case.
Don't Miss
"When we struck down his defense arguments, it is only then that he said, 'I have lost the confidence of my client,'" Nikam told reporters. "Kasab was asked, 'Do you have confidence in your lawyer?' He said, 'I have full confidence.'"
On Wednesday, Kasab told the court he was ready to face execution.
Prosecutors said they will hold off on recommending a sentence because Kasab has not disclosed more.

Kasab is one of 10 Pakistani nationals who killed more than 160 people, including many foreigners, as they laid siege on buildings such as the Taj Mahal Palace and Tower and Oberoi-Trident hotels, Mumbai's historic Victoria Terminus train station and the Jewish cultural center, Chabad House. The other nine were killed.
Authorities said Kasab was trained by Lashkar-e-Tayyiba, a militant group that was banned in Pakistan in 2002 after an attack on India's parliament. The group denied responsibility.
E-mail to a friend

CNN's Harmeet Shah Singh contributed to this report.
All About Mumbai • Terrorism • India • Lashkar-e-Tayyiba