NEW DELHI, India (CNN) -- Continental Airlines Wednesday apologized to former Indian president APJ Abdul Kalam for frisking him before a recent flight to New York.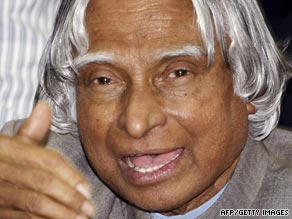 Former president APJ Abdul Kalam was exempt from body checks, officials said.
The apology came a day after Indian civil aviation authorities lodged a police complaint against the U.S. carrier in New Delhi, accusing it of gross violation of Indian security protocols that forbid pre-embarkation body checks on a number of dignitaries, including former presidents.
"Our intention was never to offend Dr. Kalam or the sentiments of the people of India. Continental Airlines takes great pride and is honored to have flown a respectable leader such as Dr. Kalam.
"We have tendered a formal apology to Dr. Kalam and we sincerely hope he will fly with us again," Continental said in a statement.
The airline says it was following Transportation Security Administration regulations that require a final security check on passengers in the jetway before boarding.
But it noted that the regulations of the TSA and its Indian equivalent, the Bureau of Civil Aviation Security, were sometimes incompatible.
"We hope the respective government authorities resolve these differences at the earliest in order to avoid any recurrence of this situation in the future," the airline said.
On Tuesday, Indian civil aviation authorities alleged the airline had failed to respond to its show-cause notice in connection with body-checks on Kalam before a flight to the United States in April.
E-mail to a friend