(CNN) -- Before Pfc. Bowe Bergdahl's capture by the Taliban in Afghanistan, he enjoyed a simpler reputation as an adventurous spirit who enjoyed seeing the world on his bike.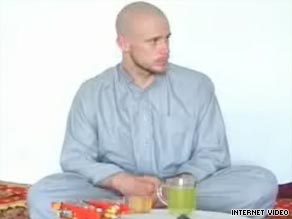 Pfc. Bowe Bergdahl, 23, appears in a video made by his captors, members of the Taliban.
"Bowe never owned a car. He doesn't like them. So he would regularly ride his bicycle to work, 15 to 20 miles each way as he went to work north up to Ketchum or Sun Valley, in all kinds of weather," Walt Femling, sheriff of Blaine County, Idaho, told reporters Tuesday. "He would regularly put 2,000 miles a year commuting to work on his bicycle."
One rainy evening, Femling spotted Bergdahl walking his bike on the side of the road, completely drenched.
"I stopped to give him a ride and he turned it down because he didn't want to get my car wet and he continued to walk in the rain. Kind of tells you a little bit about the person," recalled Femling, who know Bergdahl through renting him an apartment the sheriff owned.
The 23-year-old soldier also enjoyed martial arts and fencing, Femling said.
His wanderlust extended to the seas, where he worked as a crewman on a sailboat along the East Coast and down to the Caribbean and out to Bristol Bay, Alaska, the sheriff said.
He also spent time touring Europe before deciding to enlist in the Army, Femling said.
"It's these adventures and others that make Bowe a very well-rounded person and I'm very glad to know him," Femling said.
Femling's press conference marked his first public remarks regarding Bergdahl, who was captured June 30 from Paktika province in southeastern Afghanistan, according to the U.S. Defense Department.
Femling also read a prepared statement from the Bergdahl family thanking the public, especially their neighbors in Blaine County, for their support and prayers.
"We appreciate and take comfort in all the kinds words and support we've heard," the family said. "We'd like to ask that your concern for our son Bowe also be shared with all of our American service members in harm's way around the world. We are very grateful to all of them."
In honor of Bergdahl, Femling suggested that people ride bikes to a candlelight vigil on Wednesday in Hailey, Idaho, a small mountain community near the resort town of Sun Valley.
Bergdahl was last seen the night of June 29 when he left guard duty and went back to his sleep area. The next morning he wasn't there, but his weapon was.
The Taliban has threatened to kill him if foreign troops continue targeting civilians in the name of search operations in Ghazni and Paktika provinces, Taliban commander Mulvi Sangeen said by telephone Friday after CNN contacted him at an undisclosed location.
NATO-led forces in Afghanistan and the U.S. military repeatedly have denied targeting civilians.
Three U.S. military officials with access to the latest information told CNN on Tuesday they believe Bergdahl is in Afghanistan.
"We are working on that assumption," one senior military official said. They can't answer if he was in neighboring Pakistan and might have been moved back.
The U.S. military had no intention of announcing Bergdahl's disappearance until officials learned the BBC was expected to break the story, the senior official said. The family had been notified, but he said there is no requirement to notify the public. The goal had been to keep the soldier's capture as quiet as possible to try to get him back.
In the video, Bergdahl says that he is afraid he won't be able to return home.
"It's like most of us -- it was difficult to watch," Femling said. "I don't watch it anymore. It'd be nice if they didn't play that video anymore."
Bergdahl appears to become emotional when he speaks of his family -- his parents, siblings, nieces and nephew -- and the girlfriend he hopes to marry.
"I have a very, very good family that I love back home in America, and I miss them every day that I'm gone," he says. "I miss them, and I'm afraid I might never see them again and that I'll never be able to tell them I love them again. I'll never be able to hug them.
"I'm scared I won't be able to go home. It is very unnerving to be a prisoner," he says. However, his captors are treating him "like a guest," he says.
Asked by his captors if he has any message for Americans, the soldier says, "To my fellow Americans who have loved ones over here, who know what it's like to miss them, you have the power to make our government bring them home. Please, please bring us home so we can be back where we belong and not over here."
It's unclear if Bergdahl's captors scripted some or all of his remarks.

Watch an excerpt from the video »
The Bergdahls are drawing strength from their community, the sheriff added Tuesday.
"We are a tight group. The community just jumped right into action immediately," he said. "Everywhere you drive there are yellow ribbons, they are passing yellow ribbons out, and that is comforting that all that positive energy, all their prayers, are going in Bowe's direction."
The epicenter of local support is Zaney's River Street Coffee House in Hailey, Idaho, where Bergdahl once worked, Femling said.
Owner Sue Martin has been doing interviews nonstop. There are notes written to Bergdahl inside the shop, according to The Oregonian newspaper.
"Always a knight searching for what is good and right and true in the world," reads one note printed in the paper.
Another reads: "Your friends, family and countrymen are so proud of you."
A family friend said this week that Bergdahl should "stand tall, stand firm."
"Bowe, if you see this, know that we love you and we are praying fervently for you, and prayers are going up for you from all over the world," Tim Baker told CNN affiliate KTVB-TV in the soldier's hometown of Ketchum.
Baker said, "It breaks our heart. It's like having one of our own kids in this situation."

Watch the friend's comments about the Taliban captive »
U.S. forces in Afghanistan are doing everything possible to free Bergdahl, U.S. Defense Secretary Robert Gates said Monday.
At a news conference, Gates and Adm. Mike Mullen, chairman of the Joint Chiefs of Staff, said they were disgusted at the video that Bergdahl's captors released.
The U.S. military said it believed Bergdahl may have been moved to various locations. In the video, Bergdahl's captor makes reference to his being moved from Paktika to Khandahar. The claim could not be independently verified. Asked the date by his captor, Bergdahl says it is July 14.
Days after the soldier went missing, a senior U.S. military official said low-level militants captured Bergdahl and then quickly "sold" him to a clan and network led by warlord Siraj Haqqani, who is believed to be deeply involved in the action.
Taliban commander Mulvi Sangeen said the soldier visited a military post in the Yousaf Khel district in the Paktika province, got drunk and was ambushed while returning to his car.
Sangeen said the soldier was taken to a safe place. CNN could not independently verify Sangeen's claims.

A source with the U.S. military denied the claim that Bergdahl was drunk. "The Taliban are known for lying and what they are claiming [is] not true," the source said.
In the video, Bergdahl says he was captured as he was lagging behind a patrol.
E-mail to a friend

CNN's Barbara Starr and Emanuella Grinberg and journalist Janullah Hashimzada contributed to this report.
All About Afghanistan War • The Taliban • Blaine County