NEW DELHI, India (CNN) -- The lone surviving suspect captured during last year's terrorist assault on Mumbai named a leading al Qaeda-linked Pakistani militant as one of the masterminds behind the attacks in a surprise courtroom confession on Monday.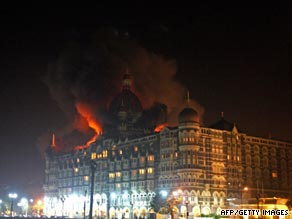 Mumbai's Taj Mahal hotel burns during last November's attack by gunmen.
Admitting his role in the carnage which left more than 160 people dead, Mohammed Ajmal Kasab said Zaki-ur-Rehman Lakhvi of the banned militant group Lashkar-e-Tayyiba had been involved in plotting the attacks.
But he made no mention of Hafiz Mohammad Saeed, the head of an Islamist charity in Pakistan, also accused by Indian authorities of being involved in the plot.
Kasab is one of 10 Pakistani nationals who police say unleashed terror on India's financial capital for four days and three nights in November. Other gunmen were killed during the attacks.
Kasab faces 86 charges, including waging war against India, murder and attempted murder in connection with the gunmen's protracted siege of prominent Mumbai buildings including the Taj Mahal Palace and Tower and Oberoi-Trident hotels, Mumbai's historic Victoria Terminus train station and a Jewish cultural center, Chabad House.
He had pleaded not guilty to all charges, and recanted a confession to the crimes that he said was made under duress.
Don't Miss
Chief public prosecutor Ujjwal Nikam told CNN that Kasab's change of plea had taken the court by surprise but said he believed Kasab was still "hiding many things."
The prosecution would give its verdict on the confession when the trial resumes Tuesday, he said. The trial has been under way for two weeks, and the court has heard from 134 of 150 witnesses. Watch what the court could do next

"We will now determine whether he is telling the truth. Is there more he has to say? Is he trying to shift the blame to the attackers who died? We will analyze his statement fully," said Nikam.
Nikam said charges brought against Kasab by Pakistani investigators could have influenced the suspect's change of plea.
But he said Kasab's confession was a "big victory" for the prosecution. "Not only is he a grade-A terrorist, he is a good actor also," Nikam said.
In his remarks, defense attorney Abbas Kazmi said he had no idea his client would be making a confession.
Lakhvi, Lashkar-e-Tayyiba's operational chief, was arrested in raids by Pakistani security forces in December last year, shortly after the Mumbai attacks.
In a statement issued at the time, the U.S. government said Lakhvi had directed Lashkar-e-Tayyiba's military operations in southeast Asia, Chechnya, Bosnia and Iraq.
"Lakhvi instructed LeT associates in 2006 to train operatives for suicide bombings," according to a U.S. government statement. "Prior to that, Lakhvi instructed LeT operatives to conduct attacks in well-populated areas."
The United States lists Lashkar-e-Tayyiba as a terrorist group with ties to Osama bin Laden's al Qaeda network.
Authorities believe Kasab, 21, was trained by Lashkar-e-Tayyiba, which was banned in Pakistan in 2002 after an attack on India's parliament. The group has denied responsibility.
The man authorities claim is Kasab was caught on surveillance camera holding a gun as he stalked and killed people inside the train station, police said. He's also accused of shooting people at the city's Cama hospital.
CNN's Mallika Kapur said Kasab had stood up in court and told the judge: "Sir, I plead guilty to my crime." Asked to clarify his plea, Kasab said he pleaded guilty to all charges, Kapur said.
Ashok Chavan, chief minister of the Indian state of Maharashtra, urged the court to reach a verdict quickly and called for Kasab to face a heavy sentence following his change of plea.
"The trial should be completed as soon as possible and the toughest punishment should be given to him," Chavan told CNN-IBN. "Kasab is just the tip of the iceberg. Pakistan needs to work towards curbing terrorism which is now a global issue."

Sanjay Govilkar, an eyewitness who said he was at the scene when Kasab was captured, told CNN-IBN that the suspect's confession was "a moment of joy."
"Kasab had been hearing statements of eyewitnesses day in and day out," Govilkar said. "Kasab must have realised that the whole world knew about his crime and so he confessed to his crime. This is no brave act of confession, it was inevitable."
E-mail to a friend

CNN's Harmeet Shah Singh contributed to this report.
All About Mumbai • Terrorism • India • Lashkar-e-Tayyiba