(CNN) -- The prime ministers of India and Pakistan on Thursday vowed not to link action on terrorism with their peace talks, which had been derailed by last year's attacks in Mumbai.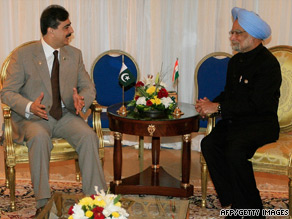 Yusuf Raza Gilani (left) with India's Manmohan Singh in Sharm El-Sheikh.
"Both prime ministers recognized that dialogue is the only way forward," they said in a joint statement after a meeting in the Egyptian resort of Sharm El-Sheikh.
Indian Prime Minister Manmohan Singh said his country was ready to discuss all issues with Pakistan, including what he called "outstanding" ones.
The two nuclear rivals have been locked in a long and bitter dispute over the Kashmir region, which was not named specifically in the statement.
Meanwhile, Yusuf Raza Gilani assured his Indian counterpart that Pakistan will do "everything in its power" to bring the perpetrators of last year's Mumbai attacks to justice.
The attack on India's financial hub began on November 26, 2008 when gunmen -- who Indian authorities later identified as 10 Pakistani nationals -- surged into at least nine locations in the city, killing 183 people and wounding 300. All but one of the gunmen was killed during the 60-hour wave of violence.
Both leaders identified terrorism as the main threat to their nations and resolved to cooperate with each other in order to fight it.
E-mail to a friend