SRINAGAR, India-administered Kashmir (CNN) -- Four police officers were arrested by the special investigation team probing the alleged rape and murder of two young Muslim women in India-administered Kashmir Wednesday evening, a senior police officer confirmed.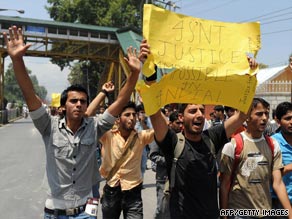 Kashmiri students protest over the alleged rape and murder of two Muslim women, in Srinagar on July 15.
The arrests were made on the orders of the state high court, which is hearing a "public interest litigation" filed by the Kashmir bar association, the senior officer said.
The senior officer said the arrests included the former police chief of south Kashmir's Shopian district and three of his subordinates, who are accused of "destruction of evidence" and "dereliction of duty" in connection with the deaths, which occurred in the town of Shopian.
The four officers had been suspended last month after an inquiry commission instituted by the state government indicted them, a doctor, a gynecologist and an official of the forensic science laboratory.
A division bench of the high court, including Chief Justice Barin Ghosh and Justice Mohammad Yaqoob Mir, Wednesday also ordered DNA profiling of the four officers to be matched with biological evidence from the two victims, Asiya Jan, 17, and her sister-in-law, Neelofar Jan, 22.
The recovery of their bodies on May 30 from a village stream has kept India-administered Kashmir on boil. Two people have died and many have been injured in more than 300 in violent clashes between Muslim protesters and Indian security forces.
Don't Miss
The authorities had initially claimed that the two women died of drowning in the stream, but under mounting public pressure and widespread protests the government was forced to institute a commission of inquiry.
The Kashmir bar association filed the public interest litigation in the state high court, which at its hearing ordered a senior police officer, Farooq Ahmad, to oversee the investigations being conducted by the police special investigation team.
And on Wednesday, the chief justice of the high court asked the people of the town of Shopian, 54 kilometers (33 miles) from Srinagar, to call off their 48-day-long agitation, which has shut down the town.
"We assure them that as the people of the state are behind them, so is the high court, and it would be our collective effort to ultimately solve the crime and appropriately deal with the perpetrator(s) of the heinous crime of rape followed by murder," the court order said.
E-mail to a friend

All About Jammu and Kashmir