KABUL, Afghanistan (CNN) -- At least five people were killed when a helicopter went down in southern Afghanistan's Helmand province Tuesday, a local government official said.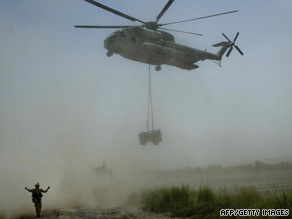 A U.S. helicopter delivers supplies for a convoy in Afghanistan's Helmand Province on Saturday.
The helicopter was providing food and supplies to the NATO forces in Helmand, where thousands of U.S. and British forces are leading separate offensives against militants throughout the province -- a Taliban stronghold and poppy-growing region.
Haji Fazul Haq, district governor of Sangin District, said one of the five was an Afghan and the rest were foreigners.
A Taliban spokesman said the militant group shot down an aircraft and had killed 37 foreign soldiers. Taliban claims have often turned out to be exaggerated under similar circumstances.
On July 6, two Canadian air crew members and a British soldier were killed when a helicopter crashed during takeoff in Zabul province, the Canadian and British defense ministries said.
International troop deaths also were reported on Tuesday in Afghanistan.
The U.S. military said two U.S. Marines died Monday during a "hostile incident" in southern Afghanistan.
The Marines have been participating in Operation Khanjar -- the Marine-led offensive targeting militants in Helmand. The forces are trying to gain and hold ground in the perilous region ahead of national elections this August.

An Italian soldier was killed and three others were injured in western Afghanistan, government officials said. The incident occurred when a blast struck the first vehicle of a patrol. The victims were members of an Italian army parachute unit.
NATO's International Security Assistance Force service member was killed by a roadside bomb on Tuesday in eastern Afghanistan. There was no immediate word of the service member's nationality.
E-mail to a friend

CNN's Atia Abawi and Hada Messia and Journalists Aleem Agha and Tawab Qurayshi contributed to this report.
All About Afghanistan • Afghanistan War • The Taliban • Helmand Province • NATO