(CNN) -- Japan's embattled Prime Minister, Taro Aso, will call a general election for 30 August, after his party lost a key vote in Tokyo on Sunday.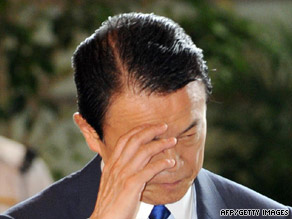 Japanese Prime Minister Taro Aso said the Tokyo election would have no effect on the national vote.
Aso's Liberal Democratic Party lost its majority in the Tokyo Metropolitan Assembly as the opposition Democratic Party of Japan made the largest gains.
The LDP won 38 seats, down from 48. Its coalition partner, the New Komeito Party, won 23.
The opposition boosted its numbers from 34 to 54 representatives in the assembly. The results mean the LDP loses its decisive majority previously held along with the New Komeito Party.
Speculation now centers on how the Tokyo vote will affect the national election.
The defeat has convinced some within the party that they must oust Aso as LDP leader before national elections, according to analysts.
E-mail to a friend