By Kristie Lu Stout
CNN





HONG KONG, China (CNN) -- First off, yes -- I've eaten the fin. Being half-Chinese, I grew up eating shark fin soup at special family functions. At the time, I didn't know about the brutal practice of "shark finning" or the impact it had on the environment.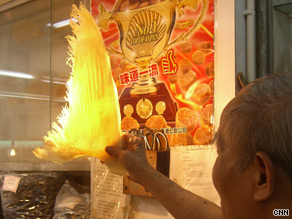 A Hong Kong shopkeeper holds up a shark fin to showcase its prized thread-like cartilage.
Today, I stay away from the dish. But I'm also aware of the cultural stigma of saying "no" when it's served at a Chinese wedding. Thankfully, there's a compromise out there -- imitation shark fin soup. I go to Hong Kong's Kin's Kitchen to try it out.
At the restaurant, local chef and sustainable seafood advocate Lao Chun ushers me into a cramped kitchen in the back.
The ingredients are already assembled for an on-camera cooking demonstration.
I pick up a bowl full of long, yellowish-white needles that look like the real deal. They are in fact imitation shark fin threads made of gelatin.
Real shark fins must be soaked overnight and then boiled for three hours. These, Lao tells me, were soaked for half an hour... and cost just a fraction of the price of real shark fin.

Watch how a chef is trying to fake shark fin soup »
Going Green
A half-hour special investigating the balance between business and the environment


Reasonable? Yes. Sustainable? For sure. Credible? I'm afraid not. The texture is simply not rubbery enough to mimic the real thing.
Shark fin may be flavorless, but it's the "kou gan" or "mouth feel" of the ingredient that makes it such a delicacy in Chinese cuisine.
There's also the prestige factor. A potent symbol of wealth and privilege, shark fin was originally served to the emperor. Lau tells me local diners have not taken to the faux version since they don't want a soup stripped of its status.
Recipe for Imitation Shark Fin Soup:
• 6 x fake shark fin bundle ($15 as opposed to $120 to 150 for real shark fin)
• Superior stock 2 liters (Chinese ham, pork, chicken)
• Bean sprouts to serve (optional)
Boil stock ingredients for one hour at medium heat and set aside. Then, soak the imitation shark fin in clean/cold water for 30 to 60 minutes. Cook in stock for one hour in medium heat. Reduce stock into a thick sauce

Serve and enjoy.
(This recipe is a fake and not suited for Chinese tastes.)
E-mail to a friend