(CNN) -- Officials in Myanmar delayed the resumption of the trial of Myanmar pro-democracy leader Aung San Suu Kyi Friday, a spokesman for her political party said. No reason was given.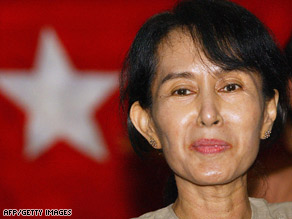 Myanmar opposition leader Aung San Suu Kyi has been held in confinement for 13 of the past 19 years.
The delay is the latest in a string of postponements and comes as U.N. Secretary-General Ban Ki-moon arrived in the Asian nation for talks with government officials.
Ban's request to meet with Suu Kyi was rejected, said Nyan Win, a spokesman for Suu Kyi's National League for Democracy party told CNN.
Ban was disappointed by the news because he said meeting with Suu Kyi had been one of the most important objectives of his visit, Win said.
The secretary-general is still scheduled to meet with four members of the NLD party.
Ban is in Myanmar at the invitation of the ruling military junta for talks that are expected to include the detention of Suu Kyi, as well as the detention of other political prisoners.
"The secretary-general believes that the sooner these issues are addressed, the earlier Myanmar will be able to move towards peace, democracy and prosperity," Michele Montas, Ban's spokeswoman, said this week. "He looks forward to meeting all key stakeholders to discuss what further assistance the United Nations can offer to that end."
Myanmar's government has said next year's scheduled elections will reintroduce democracy in the country.
Suu Kyi -- the face of Myanmar's pro-democracy movement -- is on trial on allegations of subversion. The Nobel Peace Prize winner and two of her maids have been charged in a May 3 incident in which an American, John William Yettaw, 53, swam across a lake to her house and stayed for at least a night.
Myanmar's military regime has held Suu Kyi under house arrest for 13 of the past 19 years and rarely allows her visitors.
If convicted, Suu Kyi, 64, could face three to five years in prison. Her trial is being held inside a prison compound near Yangon. The proceedings have repeatedly adjourned while Suu Kyi's lawyers have challenged the court's rulings in the case.
Ban told CNN in May that he was in talks with Myanmar's leadership about traveling to Yangon to seek Suu Kyi's release, as well as push for democratization.
"This is an unacceptable situation when she has been under detention for such a long time," Ban said. "She's a Nobel peace laureate."
Suu Kyi has been barred for life from running for political office, but human rights groups suspect that Myanmar's junta worries that her release would invigorate the opposition.
She has been the focus of a global campaign to free her.
Her National League for Democracy won more than 80 percent of the legislative seats in 1990, but she was disqualified from serving because of her house arrest, and the military regime ignored the results.
It was during her house arrest that she won the Nobel Peace Prize in 1991.
Suu Kyi married a British man, who died in 1999, and they have two sons. Myanmar's government now says citizens who have borne children with foreigners cannot run for office.
Ban's visit to Myanmar is his first since May 2008. That followed Cyclone Nargis, which killed an estimated 150,000 people.
E-mail to a friend

All About Myanmar • Aung San Suu Kyi