(CNN) -- Seven people were injured aboard a Qantas flight from Hong Kong, China, to Perth, Australia, after the jetliner hit turbulence over Borneo in Malaysia overnight, the airline said on Monday.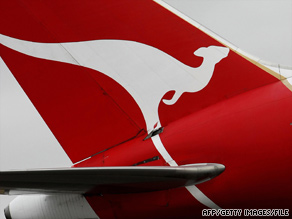 A Qantas jet landed safely in Perth, Australia, Monday after several people were injured during turbulence.
Six passengers and a crew member sustained minor injuries and were treated onboard, the airline said in a statement on its Web site. Qantas said the aircraft was an Airbus A330-300, adding that the Australian Transport Safety Bureau will investigate and that there was no reason to link the incident to other incidents involving A330 aircraft.
The turbulence arose four hours into the flight, and the jet landed at Perth around 7:30 a.m. local time Monday (11:30 p.m. GMT Sunday), according to Qantas.
There were 206 passengers and 13 flight and cabin crew onboard the jet, according to Qantas.
The captain reported minor damage to two overhead panels in the cabin and the dislodgement of two oxygen masks, Qantas said.
Air France 447, which crashed in the Atlantic Ocean en route from Rio de Janeiro to Paris with 228 people onboard, was also an Airbus A330.
Last year, an A330-303 was forced to make an emergency landing in Australia after a sudden change in altitude injured 74 passengers. Qantas Flight 72 was flying from Singapore to the western Australian city of Perth when a sudden change of altitude caused abrasions, contusions, fractures and other injuries. The cause of the sudden drop remains under investigation.
E-mail to a friend

All About Qantas Airways Ltd.