(CNN) -- An independent commission will start investigating the 2007 assassination of former Pakistani Prime Minister Benazir Bhutto in July, the United Nations has announced.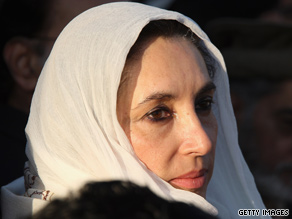 Former Pakistan Prime Minister Benazir Bhutto was assassinated in December 2007 at a campaign rally.
Bhutto, 54, was heading the opposition to then-President Pervez Musharraf when she was killed at a December campaign rally in Rawalpindi ahead of parliamentary elections.
"The duty of determining criminal responsibility of the perpetrators of the assassination remains with the Pakistani authorities," according to a U.N. news release.
The commission will have six months to fact-find and report to U.N. Secretary-General Ban Ki-moon, who announced the commission in February, the release said. Moon is expected to share the findings with the U.N. Security Council and the Pakistani government, which requested the commission.
Ambassador Heraldo Munoz of Chile will lead the three-person effort, which is to include Marzuki Darusman, a former attorney general for Indonesia, and Peter Fitzgerald, a veteran of the Irish National Police.
This week, a close aide to Pakistan's Taliban chief, Baitullah Mehsud, confirmed reports that Mehsud was behind Bhutto's assassination, Pakistan's Express TV reported. The Pakistani government and CIA officials have said in the past that Mehsud was responsible for Bhutto's death.
Don't Miss
Her husband, Asif Ali Zardari, is now president of Pakistan. His government has struggled to control terrorism and is waging a military offensive against the Taliban in the country's North West Frontier Province.
Bhutto -- the first female prime minister of any Muslim nation -- led Pakistan from 1988 to 1990 and again from 1993 to 1996.
She spent eight years in self-imposed exile in Great Britain and Dubai after President Farooq Leghari dismissed her second administration amid accusations of corruption, intimidation of the judiciary, a breakdown of law and order, and undermining of the justice system.
She was found guilty of corruption and sentenced to five years in prison. The conviction was later overturned, but she remained in exile until 2007. She returned to Pakistan that October after Musharraf signed an amnesty lifting corruption charges.
Bhutto was the daughter of Zulfikar Ali Bhutto, former president and prime minister of Pakistan, who was hanged in 1979 for the murder of a political opponent two years after he was ousted as prime minister in a military coup.
E-mail to a friend

All About Benazir Bhutto • Pakistan • The Taliban