By Nic Robertson
CNN Senior International Correspondent





RUSTUM, Pakistan (CNN) -- Piled high with food, Minhaj Bahdar rides a rented motorbike back to his family's temporary sanctuary away from the fighting between Pakistan's army and the Taliban.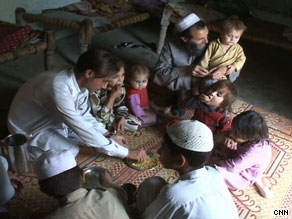 The Bahdar family -- 16 adults and 7 children -- has food rations but not much to feed them all.
The little motorbike struggles under the weight of food -- 80 kilograms of wheat, 4 kg of sugar, 1 kg of salt and 300 grams of tea. It sounds like a lot -- but it has to last the Bahdar family one month.
Twenty-three of them live in two tiny rooms provided by a local villager. They don't have enough food. There is no running water. The family is part of a humanitarian crisis in Pakistan that aid groups say is going largely unnoticed -- hidden from view because they are not in a tent city aid camp.
"Up until now it's been a largely invisible crisis. Most of the displaced -- something like 90 percent of those two-and-a-half million (displaced) -- are staying with host families," Chris Webster, of the World Vision aid organization, told CNN.
Some 2.5 million people have been forced to leave their homes, on the run from the Taliban and war, in the largest movement of people in Pakistan since partition from India more than 60 years ago.
Communities have been taking in those fleeing the fighting -- and the toll on them could soon show, Webster said.
"I've met people who sold their land, sold their cattle in order to provide for people they have never met before," he said. "They are impoverishing themselves to help these impoverished people. The potential for that is another wave of displacement and a deepening of the crisis."
Barely one quarter of the pledged half billion in aid dollars has actually been given, Webster said. "The scale of the need is so vast across such a wide area that $10 or $50, whatever you can give, will make a huge difference."
The Bahdars are at Rustum -- about three hours' drive from the capital, Islamabad, but still close to the former Taliban strongholds of Swat and Buner.

Watch Minhaj Bahdar's journey for food »
Pakistan army convoys are on the road that leads to Swat on their way to battle the Taliban. Last week, an army convoy got into an eight-hour gun battle with the Taliban on that road.
Don't Miss
There appears to be more fighting in South Waziristan, and Webster expects another mass displacement of people -- perhaps another half million people.
At its distribution hub, World Vision is struggling to keep pace with the needs as it hands out food to 500 families a day.
It was into this chaos that Minhaj Bahdar came hoping to get food for his family.
It was his lucky day -- he had the right papers and was able to claim a month's ration of food for his family. Too heavy to carry far, he rented a motorbike to make the 10-minute trip home.
Back at his house, everyone was waiting to help, but when the food was laid out it was clear: What was too much for the bike was too little for 23 people --- 16 adults and 7 children -- for a month.
Minhaj Bahdar said they were barely an hour's drive from their old home but were too afraid to go back. He said he was angry with the Taliban and blamed them for being forced out.
Their mud homes were falling down from shelling, and it took them three days to get to Rustum.
"The whole population was fleeing from their homes and without anything," Bahdar's father said. "Indeed, we are in miserable condition but what can we do, except to bear it?"

I asked Bahdar's five-year-old niece if she missed her home. "Of course," she said, and then asked if I would take her somewhere safe.
It's heartbreaking, but so is their plight.
E-mail to a friend

All About United Nations High Commissioner for Refugees • Pakistan • The Taliban