(CNN) -- Myanmar pro-democracy figure Aung San Suu Kyi turned 64 in prison Friday, while a judge considers when to hear her appeal to allow more witnesses at her subversion trial.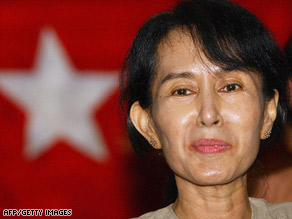 Myanmar opposition leader Aung San Suu Kyi has been held in confinement for 13 of the past 19 years.
Suu Kyi, under house arrest for 13 of the past 19 years, had been expected to be freed by the military junta last month, until the new subversion charge was filed.
"Today is Aung San Suu Kyi's 64th birthday and it is a tragedy that she will spend it in prison as the Burmese regime pursues its absurd and contemptible sham trial of her," British Prime Minister Gordon Brown said Friday, using the name for Myanmar preferred by many Western governments.
"On this day, I and all of Europe call again for Aung San Suu Kyi's release," he said. "She's an inspiration to me and to all those that fight for human rights, for democracy, and for a better and fairer world."
Brown was speaking in Brussels, Belgium, just after the European Council called for her immediate unconditional release.
Thousands of supporters left birthday messages of 64 words or less for the Nobel Peace Prize laureate on a Web site created for the occasion.
This message, posted late Thursday, was signed by a woman in the United Kingdom:
"This message isn't going to be remarkable. 64 words are not enough for this injustice, not that 64 million would be; but I hope you find them heartening. I am just one of many wishing the world fairer, and you are one of so few self-sacrificing for just that outcome. You are an inspiration, a fighting soul and an aspiration; a hero. Stay strong."
Another supporter in Norway wrote:
"People around the world have followed your fight for freedom and democracy for the people of Burma. God bless you!"
Suu Kyi is accused of violating her house arrest by offering temporary shelter to American John William Yettaw, who swam to her lakeside home on May 3. She said she doesn't know Yettaw, didn't know of his plans and didn't do anything wrong.
The trial is taking place near Yangon at Insean Prison, where Suu Kyi has been held since last month.
Don't Miss
Her supporters say the arrest is meant to keep her confined so she cannot participate in the general elections that the junta has scheduled for next year.
On Wednesday Myanmar's highest court decided to hear her appeal for more witnesses at her trial, according to Nyan Win, spokesman for her National League for Democracy.
A hearing was set for Friday to decide when that appeal will be heard.
Her latest round of home detention -- after five years of confinement -- expired last month, according to her supporters at home and abroad.
Though the government said it considered releasing her at the end of the term, it said it had no choice but to try her after she met with Yettaw.
She was put under house arrest in 1989. The following year, the National League for Democracy won more than 80 percent of the legislative seats in the first free elections in the country in nearly 30 years.
But the military junta disqualified Suu Kyi from serving because of her house arrest, refused to step down and annulled the results.
Since then, the 1991 Nobel Peace Prize winner has been the face of the Myanmar pro-democracy movement.
As for the trial itself, U.N. human rights experts weighed in Tuesday, calling for Myanmar to ensure a fair trial for Suu Kyi.
"The five experts called upon the authorities of Myanmar to allow the justice system to function in an independent and impartial manner, so as to guarantee an open and fair trial for the defendants, and to grant unfettered media access," the expert said in a statement.
"So far, the trial of Aung San Suu Kyi and her aides has been marred by flagrant violations of substantive and procedural rights," said Leandro Despouy, the special rapporteur on the independence of judges and lawyers.
The United Nations said the proceedings have "mostly been conducted behind closed doors and the media have been denied access to defense lawyers."
"Transparency in the administration of justice is a pre-requisite of any state governed by the rule of law," Despouy said.
The experts noted that the defense had only been permitted to present one witness and another was granted permission to give testimony. In comparison, the U.N. said, the prosecution has called 14 witnesses.
"The court must ensure that all witnesses who may have relevant evidence are able to testify," Despouy said.
Benjamin Zawacki, Myanmar researcher for Amnesty International, said the issue of the fairness of the trial is a diversion. Suu Kyi, he said, should never have been seized in the first place and should be released "immediately and unconditionally."
He said the trial at first looked as if it would end quickly. But the regime, by extending the trial for appeals, is trying to give the impression to the outside world that it is a fair proceeding.
"They are trying to deflect international attention," he said.
Zawacki also said they are working to persuade China -- "their most effective and consistent protector" -- to stave off any backlash in the U.N. Security Council.
E-mail to a friend

All About Myanmar • Aung San Suu Kyi