ISLAMABAD, Pakistan (CNN) -- An arrest has been made in the fatal shooting of a police officer in an attack earlier this year on the Sri Lankan cricket team in the Pakistani city of Lahore, police said Wednesday.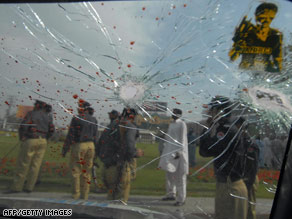 Police gather beside the wreckage of a police van in Lahore, Pakistan, following the attack in March.
The suspect, Muhammed Zubair, also goes by the alias of Naik Muhammed, police said.
Police believe he was one of six attackers who were attempting to kidnap the Sri Lankan cricket team to exchange them for jailed militants.
Zubair is believed to have received training from a militant group called Tehrik-e-Taliban Punjabi in a camp in Pakistan's North Wazistan tribal region, and joined the assailants in Lahore, where they planned and prepared their operation at a hotel and a rented house, police said.
On March 3, gunmen attacked the team as it was traveling by bus to a match in Lahore. The hail of gunfire wounded seven players and an assistant coach, and killed at least six Pakistani police who were providing security for the team. The Sri Lankan team had to be evacuated from the cricket stadium in Lahore by helicopter.
Don't Miss
The leader of Tehrik-e-Taliban Punjabi, a man identified as "Emir Farooq," sent Zubair to Lahore to take part in the attack on the cricket team, police said. Zubair told police that other men involved in the attack were members of another militant group, Lashkar e-Jhangvi, police said.
The Lahore police believe a suspect known as Aqil or "Dr. Usman" was behind the assault and a July 2007 attempt to attack the airplane of former Pakistani President Pervez Musharraf.
Along with Zubair and Aqil, there are four other alleged suspects: Muhammad Adnan, alias "Sajad"; Sami Ullah, alias "Ejaz"; Abdul Wahab, alias "Umar"; and Qari Ehsan Ul Haq, alias "Qari Ajmal."
The Lahore police have offered a 2.5 million rupee ($52,000) reward for the arrest of any of these men or "any other suspects."
E-mail to a friend

CNN's Thomas Evans contributed to this report.