(CNN) -- On this month's show we rewind the clock to June 4th, 1989. It was on this day that the media reported on two monumental events - the Tiananmen Square massacre in China and Poland's first free elections. The latter signalled the start of the end of Communism in central and Eastern Europe.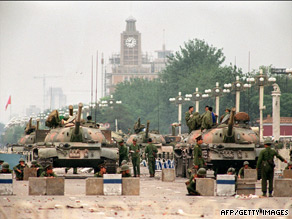 Tanks block the route to Tiananmen Square in June 1989
CNN's Fionnuala Sweeney looks at the current media landscape in Poland and speaks to journalists who worked during Communism and those who have only ever known free speech. We explore the flourishing world of digital media and look at how media owners plan to capture new audiences.
We also hear from the BBC's Kate Adie. She was one of the few western journalists to report on the Tiananmen uprising. Two decades later, Adie returned to China to speak to those who witnessed the massacre and to see what has changed since.
E-mail to a friend