ISLAMABAD, Pakistan (CNN) -- Three suicide attackers shot their way onto the grounds of a five-star hotel in the northwest Pakistani city of Peshawar and set off a car bomb, killing at least seven people and wounding dozens, officials said.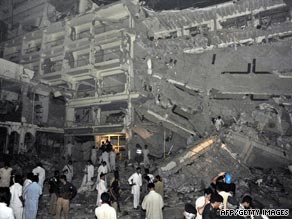 Pakistani police gather at the five-star hotel destroyed by a car bomb.
Peshawar Police Chief Safwat Ghyour said about 40 people were wounded in the attack on the Pearl Continental Hotel, which is often frequented by foreigners and diplomats.
The blast inflicted severe damage on the building, which is surrounded by a security wall, and destroyed dozens of cars in the parking lot, police and witnesses said.
The information minister for Pakistan's North West Frontier Province, Mian Iftikhar Hussain, put the death toll at 11, with at least 50 wounded. A local official, Sahib Zada Muhammad Anis Khan, said one of the dead was a Nigerian national who worked for the United Nations.
Qhazi Jamil, senior superintendent of Peshawar police, told CNN three gunmen in a pickup fired on security guards at the hotel's entrance gate and forced their way inside before setting off the bomb.
Hussain and the chief of Peshawar's bomb-disposal squad said the bomb contained about 500 kilograms (1,100 pounds) of explosives.
Peshawar is the capital of North West Frontier Province, which has suffered a spate of bombings on civilian targets in the wake of the Pakistani military's ongoing military offensive against Taliban militants.
Sajjan Gohel, an international security analyst at the Asia-Pacific Foundation in Britain, said the blast appeared to be a response to the government's offensive.
"It has been criticized very heavily in the tribal areas because of the fact that the Pakistani military has been using helicopter gunships against the Taliban, which has resulted in very high civilian casualties," Gohel said.
He said people in the region are sympathetic to the Taliban, the Islamic militia that ruled most of Afghanistan before the September 2001 attacks on New York and Washington by its al Qaeda allies.
"This is where winning hearts and minds is so key and important, which the military are failing to do," he said.
However, hundreds of Pakistani villagers who have formed an anti-Taliban militia are currently fighting to remove the Islamic militants from their region of northwestern Pakistan, military spokesman Maj. Gen. Athar Abbas told CNN.

Abbas told CNN the Pakistani military is supporting the villagers, who turned against the Taliban after a suicide attack on a local mosque during Friday prayers left at least 40 dead.
The Pearl Continental is owned by the same group as the Marriott Hotel in Islamabad, which was destroyed in a suicide truck bombing in September.
E-mail to a friend

CNN's Ingrid Formanek and Reza Sayah contributed to this report