ISLAMABAD, Pakistan (CNN) -- The Pakistani army rescued a group of 80 students and school staff Tuesday, a day after Taliban fighters abducted the group, military representatives said.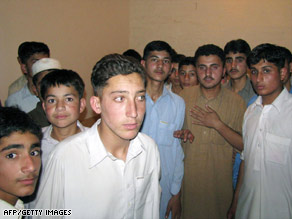 Pakistani students arrive safely in Bannu on Monday after militants abducted their colleagues.
The army rescued the group, which included 71 students, near Razmak in Pakistan's tribal region.
The abduction took place Monday in the same tribal region, the area where the military has waged a bloody battle against Taliban insurgents, police said.
Militants attacked a convoy of 27 vehicles carrying 350 students and teachers that departed Razmat Cadet College in the Federally Administered Tribal Areas.
The heavily armed Taliban fighters attacked about eight vehicles, while the others sped away.
The Pakistani military has been conducting a monthlong offensive against the Taliban, centered in the Swat region of North-West Frontier province.
Over the last 24 hours, the military said, 21 militants were killed and 18 others apprehended in Swat. Three soldiers were killed and six others were injured, the military said.

The fighting has spurred a massive displacement of residents.
The U.N. refugee agency said Tuesday that that the lifting of a curfew over the weekend prompted thousands of civilians to flee to safer regions of the province.

Watch Pakistanis express hope the conflict will end soon »
E-mail to a friend

CNN's Ingrid Formanek contributed to this report.
All About Pakistan • The Taliban