LONDON, England (CNN) -- British troops killed a "most dangerous" Taliban leader responsible for the deaths of two British service members and likely hundreds of civilians, the defense ministry said Tuesday.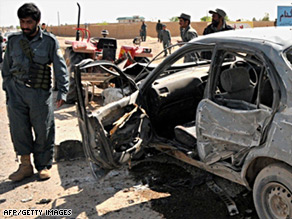 Mullah Mansur is blamed for the deaths of soldiers, police and civilians.
Mullah Mansur is described as "one of the most dangerous Taliban leaders in Helmand," the province where British troops are based. He was killed on Monday by troops in British Apache helicopters northeast of Lashgar Gah, Helmand's capital.
Mansur is believed to be behind the May 7 suicide attacks that killed Sgt. Ben Ross of the Royal Military Police and Gurkha Cpl. Kumar Pun in Gereshk in southern Afghanistan.
Mansur is also thought to be behind other suicide attacks that killed Afghan police and civilians, including one on May 11 that killed 13 Afghan police and civilians and wounded 27 other people. He is also implicated in a March attack that killed 9 Afghan policemen and two civilians, with 28 people wounded.
Mansur was believed to have links to insurgent commanders from the Baluch tribe in the south and acted as the link between the insurgency in the south and central Helmand.
The defense ministry said the Monday attack is also thought to have killed and wounded other insurgents.

"UK forces conducted a successful precision strike against one of the most dangerous men in Helmand, and what we consider to be the most dangerous man in the central area around Lashkar Gah," Lt. Col. Nick Richardson, Helmand spokesman.
"The attacks he helped plan and execute have probably killed or wounded hundreds of people, and most of them have been either Afghan civilians or police. This operation was the culmination of months of effort and the strike itself was carefully coordinated and checked to ensure there were no civilians in the area."
E-mail to a friend