ISLAMABAD, Pakistan (CNN) -- One of the three suspects detained Friday in Islamabad has been identified as Fida Ullah, a terrorist who recruited suicide bombers here, police said in a news release.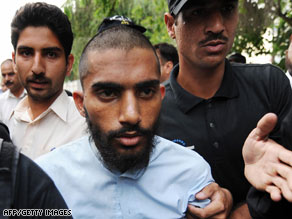 Fida Ullah, center, was arrested on Friday and publicly identified on Monday in Islamabad, Pakistan.
Two young men suspected of involvement in two Islamabad suicide attacks this year led police to Fida Ullah, the release said Monday.
He also allegedly played a "central role" in the attacks, which killed nine police and frontier corps officers, it said.
Bin Yamin, Islamabad police deputy inspector general, said over the weekend that the attacks occurred in a March 23 attack on a police station and an April 4 attack on a checkpoint.
Fida Ullah joined the Taliban in terrorist activities against security forces in the current operations in Swat Valley, the release said.

Police wouldn't give details about the network but said the three suspects underwent training at a camp overseen by Baitullah Mehsud, a Pakistani Taliban leader. Two of them are from Buner district in North West Frontier Province and one is from Punjab. All three are under age 25.
The Pakistani military has been conducting an offensive against the Taliban in the Swat region of the North-West Frontier Province and battled militants Saturday night in the neighboring tribal region.

Watch iReporter Gulraiz Khan show life inside a Swat Valley tent city »
E-mail to a friend

Journalist Nasir Habib contributed to this report.
All About Pakistan