ISLAMABAD, Pakistan (CNN) -- Militants in a Taliban-held area of Pakistan are believed to have abducted 50 students and staff Monday after a ceremony marking the last day of school, a police official said.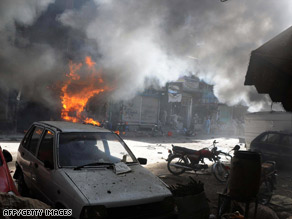 Smoke billows from a fire at the site of a marketplace bomb in Peshawar, Pakistan, last week.
The abduction took place in North Waziristan, located in Pakistan's tribal region, where the military has waged a bloody battle against Taliban insurgents, said Iqbal Marwat, a police official of Banu District in the North-West Frontier Province.
He said a convoy of 27 vehicles carrying 350 students and teachers departed Razmat Cadet College in the Federally Administered Tribal Areas. When it reached Khawaja Khur, 30 to 35 heavily armed Taliban fighters stopped the convoy and abducted eight vehicles and their 50 occupants, he said.
Occupants of the other 19 vehicles drove away.
Khawaja Khur is in the Frontier Region of the province, adjacent to North Waziristan, about 20 kilometers (12 miles) west of the city of Banu.
The students are between the ages of 9 and 22, Marwat said.
The reported abductions follow a series of attacks on civilians in northwest Pakistan.
Don't Miss
An explosion struck a bus station in the city of Kohat on Monday, killing two civilians and wounding 18, a police official said. Kohat is in North West Frontier Province, where a string of militant attacks in Peshawar and Dera Ismail Khan killed 12 people last week.
Militants also struck the Pakistani city of Lahore last week, killing 27 people in a suicide attack on a building housing police, intelligence, and emergency offices.
Pakistan's Taliban claimed responsibility for the Lahore bombing, and threatened to continue attacking cities in Pakistan until the military ends its operations against Taliban militants.
As a result, Pakistani authorities increased security in Islamabad, Pakistan's capital city.
The Pakistani military has been conducting a monthlong offensive against the Taliban, centered in the Swat region of North West Frontier Province.
E-mail to a friend

All About Pakistan • The Taliban