YANGON, Myanmar (CNN) -- Aung San Suu Kyi declared herself innocent of charges she finally heard in court for the first time Friday, the fifth day of her trial on allegations of subversion.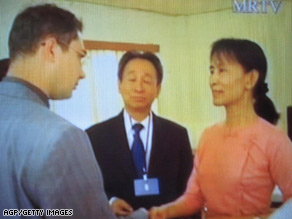 A television grab shows Aung San Suu Kyi meeting with diplomats at Insein Prison in Yangon on May 20.
"I'm not guilty," the Myanmar opposition leader told the court, according to a spokesman for her party. When the court asked why she claimed innocence, she replied, "I didn't break any law," said the spokesman, Nyan Win.
Suu Kyi, a Nobel Peace Prize laureate, has been under house arrest for years under orders from Myanmar's military regime. She is being tried on allegations of subversion along with two of her maids for the May 3 incident in which an American, John William Yettaw, 53, swam across a lake to her house and stayed there for at least one night.
If convicted, Suu Kyi, 63, could be sentenced to three to five years in prison. The trial is being held inside a prison compound in Yangon, and all but one day so far has been closed to the public, including the news media and diplomats.
Yettaw -- who also is on trial -- has been charged with violating immigration laws and trespassing. Conviction on the charges would carry a maximum sentence of five years in prison. He is being represented by a lawyer selected by the U.S. Embassy in Yangon.
Suu Kyi's lawyer has said his client asked Yettaw to leave her home immediately, but Yettaw refused, first saying he didn't want to swim in daylight for fear of being captured, and later blaming leg cramps. Yettaw left May 5 and was arrested shortly afterward.
In court on Friday, Yettaw said he made the unauthorized trip to Suu Kyi's house because he had a vision she would be assassinated and wanted to warn her, Win said. He said Yettaw could be seen muttering to himself during the proceedings, including utterances that Suu Kyi is innocent.

Watch Britain's ambassador describe proceedings »
The trial will break for the weekend and resume Monday with Suu Kyi's defense, Win said. The trial has prompted international criticism, with nine Nobel laureates -- including Archbishop Desmond Tutu of South Africa -- calling it a "mockery." U.S. Secretary of State Hillary Clinton called the charges against Suu Kyi "baseless" and accused Myanmar's ruling junta of "continuing (its) resistance to a free and open electoral process."
Don't Miss
U.N. Secretary-General Ban Ki-moon told CNN he was in talks with Myanmar's leadership about traveling to Yangon "as soon as possible" to seek the release of Suu Kyi from her long-standing house arrest, as well as steps toward democratization.
"This is an unacceptable situation when she has been under detention for such a long time," Ban said in the Wednesday interview. "She's a Nobel peace laureate."
Myanmar's government has said next year's scheduled elections will reintroduce democracy in Myanmar.
Suu Kyi's lawyers are expected to argue that the pro-democracy advocate knew nothing about the American's plan to visit her and that she tried in vain to get him to leave.
The defense also is expected to turn the charges on their head, arguing that the government has failed to protect Suu Kyi.
The court may be trying to issue a verdict before Suu Kyi's latest round of home detention expires May 27, according to Win.
Suu Kyi has been under house arrest for 13 of the past 19 years -- a confinement that the military junta has regularly extended. She has been barred for life from running for political office, but human rights groups suspect that Myanmar's junta is concerned that her release could invigorate the opposition.

Watch the U.N. secretary general explain what he is doing for Suu Kyi »
Suu Kyi has been the face of Myanmar's pro-democracy movement and the focus of a global campaign to free her. Her National League for Democracy party won more than 80 percent of the legislative seats in 1990, but she was disqualified from serving because of her house arrest, and the military junta ignored the results.

It was during her house arrest that she won the Nobel Peace Prize in 1991. Suu Kyi married a British man, who died in 1999, and they have two sons.
Myanmar's government now says citizens who bore children with foreigners cannot run for office.
E-mail to a friend

All About Myanmar • Aung San Suu Kyi