YANGON, Myanmar (CNN) -- A British envoy who attended the third day of Myanmar opposition leader Aung San Suu Kyi's trial on Wednesday said she appeared "robust" and in a positive frame of mind.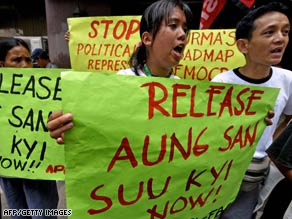 Filipino protesters rally in front of Myanmar's embassy in Manila on May 19, 2009.
"She looked extremely alert, extremely in charge of the situation, in good spirits, in good humor at the end," British Ambassador to Myanmar Mark Canning told CNN. "She was very much in charge of her defense team."
Canning was among 20 diplomats and 10 journalists permitted by the country's military junta to view the proceedings, which lasted just over an hour.
He said Suu Kyi was not allowed to meet individually with diplomats. But in the courtroom, she called out to diplomats in gratitude, saying, "thank you for coming and your support" and "I hope to meet you in better days."

Britain's ambassador was at the trial »
"Having the access we got today was good. It's better than not having access," Canning said. "But it's no substitute to addressing the real issue: the fact that she should not be facing this trial, she should not be facing house arrest."
Myanmar's military junta also allowed diplomats from Russia, Singapore and Thailand to meet with the Nobel Peace Prize laureate.
The government's decision to take a more open approach to the case is unusual, and follows days of international criticism of the case.
Among the critics are nine Nobel laureates who called the trial a "mockery" in a letter to U.N. Secretary-General Ban Ki-moon on Monday.
The case is being tried inside a prison compound near Yangon. Police maintain a heavy presence outside.
After a slow start on the first day, the proceedings have picked up pace, offering hope to Suu Kyi's supporters that the trial might end soon.
"Certainly the opinion of her defense team is that things have speeded up a bit and that there could be a result as early as next week," Canning said. "But I have to say, the proceedings that we saw today, and it was only a small glimpse, were pretty slow running."
Don't Miss
Nyan Win, the spokesman for Suu Kyi's National League for Democracy, said the court might be speeding up the hearings so it can issue a verdict within seven days -- before Suu Kyi's latest round of home detention expires.
The 1991 Nobel Peace Prize winner has been under house arrest for 13 of the past 19 years -- a confinement that the military junta has regularly extended.
"The trial is a mockery," the nine Nobel Peace Prize winners said in their letter. "There is no judicial system in Burma. It is clear that this is an excuse by the military junta to add trumped-up charges at a time when Daw Aung San Suu Kyi's unlawful detention was scheduled to end May 27, 2009."
Signatories to the letter included Costa Rican President Oscar Arias and Archbishop Desmond Tutu of South Africa.
"Daw" is an honorific title in the southeast Asian country, which also is known as Burma.
Also on trial are two of Suu Kyi's maids and an American man who allegedly swam to her lakeside home, prompting the prosecution.
Suu Kyi, 63, and her maids have been detained under Section 22 of the country's legal code, a law against subversion.
If convicted, Suu Kyi could face three to five years in prison.
The charges stem from a May 3 incident, when John William Yettaw is accused of swimming almost two miles across the lake behind Suu Kyi's crumbling, colonial-era home and staying for two days.
The government said Yettaw's presence in the closely guarded home violated the conditions of Suu Kyi's house arrest.
The country's regime rarely allows Suu Kyi any visitors, and foreigners are not allowed overnight stays in local households without government permission.

Watch more on Suu Kyi's trial »
Yettaw, a 53-year-old former military serviceman from Falcon, Missouri, is charged with violating immigration laws and trespassing. The charges carry a maximum sentence of five years in prison.
A lawyer selected by the U.S. Embassy is representing him.
Don't Miss
Suu Kyi's lawyers are expected to argue that the pro-democracy advocate knew nothing about the American's plan to visit her and that she tried in vain to get him to leave.
The defense also is expected to turn the charges on their head, arguing that the government has failed to protect Suu Kyi.
U Kyi Win, one of Suu Kyi's lawyers, said Yettaw refused to leave -- first saying he didn't want to swim in daylight for fear of being captured, and later blaming leg cramps.
Suu Kyi didn't tell authorities about the visit because she didn't want get Yettaw or anyone else in trouble, U Kyi Win said.
The Nobel laureate has been the face of Myanmar's pro-democracy movement and the focus of a global campaign to free her.

Watch former U.S. president Jimmy Carter discuss Aung San Suu Kyi »

Her National League for Democracy party won over 80 percent of the legislative seats in 1990. She was disqualified from serving because of her house arrest, and the military junta ignored the results.
The government has said next year's scheduled elections will re-introduce democracy in Myanmar. But its plan includes a clause that forbids citizens who bore children with foreigners from running for office. That makes Suu Kyi ineligible because she married a British man and has two sons with him.
E-mail to a friend

CNN's Kocha Olarn and Dan Rivers contributed to this report.
All About Myanmar • Aung San Suu Kyi