ISLAMABAD, Pakistan (CNN) -- The United States is sending $100 million in aid to Pakistan to help alleviate the plight of the estimated 2 million people displaced by the offensive against Taliban extremists, Secretary of State Hillary Clinton announced Tuesday.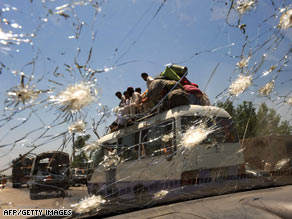 Pakistani civilians flee to camps for the internally displaced in Mardan district.
The money comes on top of $60 million in assistance already provided by the United States to Pakistan since last August.
The assistance is "essential to the global security and security of the United States," Clinton said in a White House briefing. Much of the aid will be directed toward the purchase of Pakistani grain as part of a larger "investment in the people and economy in Pakistan."
The Pakistani government is helping to lead the fight against extremists threatening "our collective security" and therefore deserves to be supported, she argued.
Clinton called on individual Americans to support the relief effort in the form of $5 donations by texting the word "SWAT" to the number 20222.
Pakistan's military launched a massive operation against Taliban militants in its northwest region earlier this month after a peace deal collapsed and the militants moved within 60 miles of the capital, Islamabad.
Much of the recent fighting has been centered in and around Pakistan's Swat Valley.

The first pictures from the fighting »
According to the White House, the United States will send:
• $20 million to provide family relief kits, tents, FM radios, and generators to provide light and water;
• $26 million for the immediate purchase of local wheat, other food, and related items;
• $17 million for 50,000 tons of wheat slated to arrive in May and June;
• $10 million to respond to United Nations emergency appeals;
• $15 million to ship food items such as lentils, dried peas, and other basic foodstuffs; and
• $12 million to fund an emergency response center.
In addition to the $100 million announced by Clinton, the Defense Department is sending another $10 million in aid could begin arriving this week if Islamabad grants permission for U.S.-manned C-17 flights, U.S. defense officials said earlier Tuesday.
The aircraft will carry food, water, water trucks and air-conditioned tents, the officials said.
Planning has been under way for several days, but Pakistani officials are sensitive to U.S. military presence in their country, the officials added.
Meanwhile, United Nations refugee agency spokesman Ron Redmond said Tuesday that Pakistanis are fleeing the conflict in "the biggest and fastest exodus that we have seen in recent years."
Nearly 1.5 million Pakistanis have registered as displaced since May 2 -- a rate of about 85,000 people fleeing a day -- Redmond said. The total number is equivalent to the population of Philadelphia, Pennsylvania.
"You'd (probably) have to go back to Rwanda in 1994 for a similar size and speed," Redmond said.

He noted that that would be the only comparison between Pakistan and Rwanda, where a genocide left hundreds of thousands dead.
An additional 550,000 Pakistanis were uprooted in fighting before that, according to the U.N. High Commissioner for Refugees. Most of the nearly 2 million displaced Pakistanis are not staying in refugee camps, according to the UNHCR.
E-mail to a friend

CNN's Barbara Starr contributed to this report.
All About Pakistan • The Taliban • North-West Frontier Province • Al Qaeda