UNITED NATIONS (CNN) -- U.N. Secretary-General Ban Ki-moon agreed on the need for additional humanitarian aid after meeting with Pakistani President Asif Zardari on Tuesday.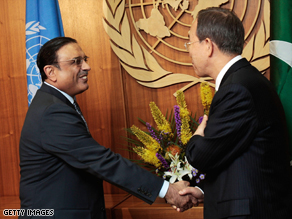 Pakistani president Asif Zardari (left) met U.N. Secretary-General Ban Ki-moon in New York.
"The United Nations is ready and will always stand by to provide the necessary assistance, humanitarian assistance," Ban told reporters following the session with Zardari.
"I have asked him to facilitate smooth delivery of humanitarian assistance and protection of humanitarian workers, and there are about 1 million displaced persons in that region."
Pakistan's military is in the midst of an offensive against the Taliban along its western border with Afghanistan, particularly in the Swat Valley, causing a flood of civilians from the region.
The military has set up headquarters to manage the 1.3 million internally displaced people, Pakistani military spokesman Gen. Athar Abbas said. That number includes 500,000 Pakistanis who have been uprooted from their homes since August, before the latest military push against militants began, he said.
The U.N. World Food Program has been providing emergency rations and supplies for about 650,000, including recently displaced people from the Lower Dir, Swat and Buner districts, and has announced plans to double the amount of assistance.
Don't Miss

"WFP has mobilized in-country stocks and is prepared to feed the growing population of internally displaced persons for the next two to three months," said Wolfgang Herbinger, the food program's country representative in Pakistan.
"We need the international donor community to quickly step forward with donations to avoid any interruptions in food distributions," he said.
E-mail to a friend

All About Pakistan • The Taliban • United Nations