(CNN) -- Sri Lanka summoned a U.N. official to protest remarks by an agency spokesman about a civilian "bloodbath" in the government's war against Tamil militants, Foreign Ministry sources told CNN Tuesday.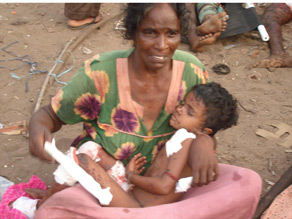 A photo supplied by a humanitarian group on Sunday shows civilians allegedly injured in government shelling.
The Foreign Ministry expressed its displeasure to Amin Awad, acting resident representative of the United Nations in Sri Lanka, about comments by U.N. spokesman Gordon Weiss in Colombo.
Weiss told CNN on Monday that hundreds of civilians died during weekend fighting because the Sri Lankan army had surrounded rebel fighters in the country's north, putting residents in the crossfire.
"The U.N. has been warning for weeks that this precise situation would result in a bloodbath and, indeed, that seemed to have come to pass," Weiss said, adding that rebels had "refused to let 50,000 to 100,000 civilians go in order to force a government assault."
A Foreign Ministry source said Awad agreed to report the protest about Weiss' remarks to his headquarters.
Mahinda Samarasinghe, Sri Lanka's minister of disaster management and human rights, initially said Weiss would be summoned to explain his remarks, but this did not happen because of diplomatic protocol, a source told CNN, noting that he is a junior official at the U.N. office in Colombo.
As for Weiss' remarks, Palitha Kohona, Sri Lanka's foreign secretary, said U.N. officials posted to a host country cannot make such comments.
In Monday's interview, Weiss said "verification is, of course, the part of the problem, because humanitarian agencies are denied access to the region.
"Our understanding is that very heavy fighting took place over the weekend and there were many hundreds of civilian deaths and many, many more beyond that injured."

Watch frustration build at the United Nations »
Ban Ki-moon, the U.N. secretary-general, issued a statement Monday saying he was "appalled at the killing of hundreds of civilians in Sri Lanka over the weekend.
Ban expressed his concern over the use of heavy-caliber weaponry in civilian areas by the combatants and made note of what he said is "reckless disrespect" by Tamil Tigers for civilian safety.
"Thousands of Sri Lankans have already died in the past several months due to the conflict, and more still remain in grave danger," Ban said.
Rebel claims of civilian deaths have been considerably higher than those provided by the United Nations. Lawrence Christy, the head of the Tamils Rehabilitation Organization, said more than 3,200 civilians died in fighting from Sunday evening until Monday morning, the rebel Web site Tamilnet.com reported.
The Sri Lankan government has denied the allegations and accused the Tamils of "taking the whole world for a ride with its well-engineered propaganda ploys," while turning their weapons on civilians trying to flee the combat zone.
Accounts vary widely about how many have been trapped by the fighting. As recently as last week, a military spokesman put the number at 10,000 to 15,000 civilians.
CNN could not independently verify the accounts, because the government does not allow the news media independent access to areas where it is fighting the rebels.
Government troops have closed in on rebel forces in a shrinking section of the country's north. More than 196,000 people have fled the battle zone, according to the U.N. Office for the Coordination of Humanitarian Affairs.
The International Committee of the Red Cross said heavy fighting on Tuesday made it "impossible" for its employees to evacuate wounded and sick people and to deliver 25 metric tons of food for what it said were thousands of civilians stranded there. A metric ton is 1,000 kilograms, or 2,025 pounds.
"Lack of security forced our ferry to stay offshore for the entire day today, only kilometers from the conflict area," said ICRC's head of delegation in Sri Lanka, Paul Castella, in a written statement.
The ICRC said its chartered ferry was able to reach the area on Saturday to offload food and medical supplies and to evacuate more than 500 wounded and sick patients and their relatives.
A day earlier, fighting had prevented the ferry from approaching the shore. "The plight of the people remaining in the combat area is desperate," Castella said. "We need unimpeded access to them in order to save lives."
The aid agency said it has been able to evacuate nearly 14,000 people from the area and deliver more than 2,350 metric tons of food and other items.

Tamil Tiger rebels have been fighting for an independent state in Sri Lanka's northeast since 1983.
As many as 70,000 people have been killed since the civil war began, and the Tigers have been declared a terrorist organization by the European Union and more than 30 countries, including the United States.
E-mail to a friend

All About Sri Lanka • Liberation Tigers of Tamil Eelam