By Nick Parker
CNN Talk Asia Producer





(CNN) -- It is 9:30 am at the Sepang International Circuit in Kuala Lumpur, Malaysia, and already it's intensely hot. We're here to interview Japanese driver Kazuki Nakajima for Talk Asia, but we also get an insight into the intriguing world of Formula 1.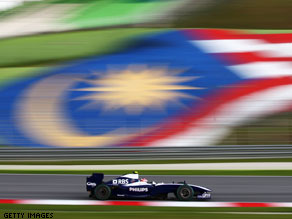 The Malaysian Grand Prix is something of a wildcard on the F1 circuit.
The Malaysian Grand Prix is famous for its wild card status; it's a celebrated race in Asia where high temperatures and tropical rainfall make outcomes unpredictable.
The vast, sprawling track is closed to the public, as final preparations for the big event get under way: Burger kiosks are cooking, boxes of earplugs are being unpacked, and a safety car screams down the track at eye-watering speed on a practice run. When a safety car is deployed in hazardous conditions, F1 racers still struggle to drive slow enough. In the pits, we see a dozen technicians from the Williams team replace the wheels on Nakajima's car over and over again, streamlining their drill.
Formula 1 is like a traveling circus, taking over each city it visits, and has a level of organization rarely seen outside of combat operations. Each race venue spends months on end preparing for its annual Grand Prix. Then, a week before race weekend, F1 boss Bernie Ecclestone's formidable Formula One Management sweeps into town and takes over the circuit.
Unmarked FOM lorries shuttle the team cars and equipment from the airport and into the paddock. Press access to the track is vigilantly restricted and then divided into a pecking order, with access barriers emblazoned with a broad spectrum of different colored passes. Having built his billion-dollar empire on negotiating the TV rights to Formula One, Ecclestone remains fiercely protective of the product.
Don't Miss
Back at his hotel near the track, the F1 impresario cuts a low-key figure. Seated in the lobby bar with several aides, Ecclestone looks bored, muttering the occasional comment; in the background a guitarist plays a love song to a backing track. It's not the most glamorous of scenes, yet this is the hotel where most drivers and staff have stayed since the Formula 1 came to Malaysia 10 years ago.
A large building with a vaguely Islamic facade, the hotel overlooks the airport control tower and can be best described as functional, with little F1 branding or security. During the day it is also strangely deserted, with most teams tuning and driving their cars for hours in the days before the race. Yet behind closed doors, the power brokers huddle. We arrived as a meeting chaired by Ross Brawn, head of the new Brawn GP team, broke up, with only some dubious-looking finger food remaining.
Show times
Wednesday, May 6: 13.30 GMT (20.30 Hong Kong)
Thursday, May 7: 04.00 GMT (11.00 Hong Kong)
Saturday, May 9: 05.30, 15.30, 19.30 GMT (12.30, 22.30, 02.30 Hong Kong)
Monday, May 11: 03.00 GMT (10.00 Hong Kong)
Tuesday, May 12: 16.30 GMT (23.30 Hong Kong)

Youthful and immaculately well-mannered, Nakajima appeared for our interview early. He blushed deeply when host Anjali Rao suggested he did not seem to be the type of driver who was interested in glamour.

"Probably not. I'm not really interested in all these things personally," he told us, as we drove to the track several days before the Grand Prix. Hours of driving, circuit walking and interviews awaited him.

"For me the most important thing is that I'm racing in F1, apart from that I don't really care about all the glamour." It seems to be a prevailing approach in the sport: During the current recession, budget caps and sponsorship fears make the James Hunt-era of excess more anachronistic than ever.

Nakajima himself has a point to prove: As the son of a racing legend in Japan, he has been hit by accusations of nepotism, with other critics claiming he won his place with Williams after pressure from Toyota, maker of the team's engines.

Watch the show »

"I just have to perform on the race track, " he says. "There's no help from anybody, so that's the only thing and that's what I achieved last year as a rookie and this year there's another mission for me, but yeah, I'm sure that I can achieve that."
Watch the Kazuki Nakajima show this week on CNN.
E-mail to a friend