(CNN) -- Racing dynasties aren't new to motor sports. Former Formula One world champions Damon Hill and Jacques Villeneuve both had fathers with equally illustrious racing pedigrees.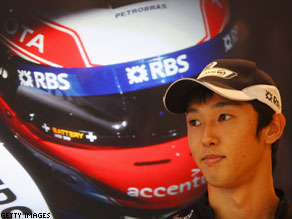 Following in his father's tire tracks, Kazuki Nakajima is currently Japan's only F1 driver.
But of the current crop of F1 drivers who have racing heritage, Kazuki Nakajima of Japan has the added pressure of getting a whole nation excited about F1.
Yet despite being Asia's only driver in F1, Nakajima remains cool following in the tire tracks of his father Satoru, who raced in the 1980s.
However he admits he could not escape the gaze of the media when he was growing up in Japan and learning his skills in karting from the age of 12.
"When I was young I was definitely having more attention from the media ... I think I had a lot more attention than some other drivers even when I was not performing really well," he told CNN.
From karting to Formula One, the 24-year-old has risen through the ranks of motor sport. Taking a different turn from his father, he joined the Toyota Young Driver program (his father raced with Honda) and won the Formula Toyota championship in 2003. After two years competing in the Japanese Formula Three series, he moved to Europe in 2006 to race there and was named Williams F1 test driver later that year.
His seat in the team came at the end of the 2007 season when Alexander Wurz retired, although his F1 debut in the Brazilian Grand Prix in 2007 didn't quite go according to plan. He ran over members of his teammates coming in for a pit-stop, but he managed to finish the race and record one of the race's fastest lap times.
"The [race] in Brazil was, to be honest, embarrassing, but at the same time I felt really sorry for the guys because everybody was ready for pit stop and I couldn't stop so I hit them," he said.
"It's not great to have this instant, but it's always good to experience as well, especially if you can manage to come back afterwards, you can be even stronger."

Watch Nakajima talking about his driving skills »
There have been accusations that he became a driver for Williams primarily because of pressure from the team's engine supplier Toyota, an allegation Nakajima doesn't deny.
"Definitely there was help from Toyota for me to find a seat in Williams, but after finding a seat it's all my job. Basically when I was a test driver I had to perform in the testing to show the team that I'm good enough to be a race car driver," he told CNN.
Show times
Wednesday, May 6: 13.30 GMT (20.30 Hong Kong)
Thursday, May 7: 04.00 GMT (11.00 Hong Kong)
Saturday, May 9: 05.30, 15.30, 19.30 GMT (12.30, 22.30, 02.30 Hong Kong)
Monday, May 11: 03.00 GMT (10.00 Hong Kong)
Tuesday, May 12: 16.30 GMT (23.30 Hong Kong)

"I just have to perform on the race track. There's no help from anybody, so that's the only thing and that's what I achieved last year as a rookie and this year there's another mission for me, but yeah I'm sure that I can achieve that."

With five finishes in point-winning positions in his first full season while driving a car deemed by many to be less than competitive, Nakajima is looking to make more inroads into the top places this season.
He's sanguine about his chances of winning the championship, but first and foremost he's a competitor: "I'm a driver who is competing for Formula One so my aim is always to win the race. We have a good car at the moment, so to grab the best result I can, that would be the ultimate aim."
E-mail to a friend