By Samson Desta and Ivan Watson





ISLAMABAD, Pakistan (CNN) -- Newly displaced residents, fleeing the fighting between government troops and Taliban militants in northwestern Pakistan, are putting a crush on U.N. resources already stretched thin.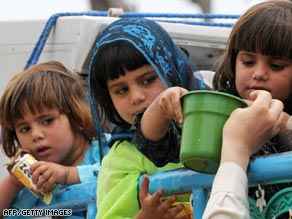 Displaced children from Buner receive food as they travel on a packed vehicle.
The United Nations estimates some 50,000 people have left the embattled district of Buner since fighting erupted there late last month. Other humanitarian sources say the displaced population may be as high as 150,000, but numbers are difficult to confirm in the volatile area about 60 miles (100 km) north of the capital, Islamabad.
Pakistani families are fleeing the area any way they can: on foot, hitching rides on the back of trucks and stowing their belongings on the roofs of cars. But not all have made it out alive.
"Innocent civilians are lying on the roadside and the dogs are eating their bodies," said an agitated man, who only gave his first name Khushaid.
Another fleeing man, Aurang Zaib, recounted how the military opened fire on his village Saturday.
"They started bombing, so all the people left their homes and fled the area," he said, speaking from inside a pick-up truck loaded with relatives and belongings. "[The soldiers] were shooting at the villages."
The Ministry of Defense was not immediately able to comment on the claims.
The Pakistani military launched an offensive into Buner last week, after hundreds of Taliban fighters descended from their stronghold in the neighboring Swat Valley and seized control of the district last month.
Pakistani forces will likely advance to Swat in coming days, said Yahya Akhunzada, the top Pakistani government official in Buner.
"We have established the writ of the government in the south of Buner," he said Sunday. "Now we are planning ahead toward Swat Valley, Malakand and Shangla."
Don't Miss
Brig. Fayaz Mehmood, a Pakistani military commander in Buner, claimed his forces killed between 50 and 80 Taliban fighters during recent fighting, while losing only three Pakistani troops.
On Monday, Pakistan's military confirmed claims made by the Taliban that the militants had beheaded two kidnapped Pakistani soldiers. In a news release, the military said the soldiers' killings on Sunday were "against all norms of religious teaching and human ethics."
Pakistan's military also said the Taliban were reportedly hiding among 2,000 people, using them as human shields as the military moves into the Swat village of Pir Baba. The Taliban have also kidnapped civilians in the Maidan area, set fire to civilian vehicles, and threatened the lives of others people in Swat Valley, according to the military.
The latest round of clashes is exacerbating the growing humanitarian crisis that has emerged in northwestern Pakistan since fighting escalated in the region last August.
Two new camps are being established to house the tens of thousands of displaced civilians emerging from Buner and from another combat zone in the district of Lower Dir.
E-mail to a friend

All About The Taliban • Pakistan