By Jason Hanna
CNN





(CNN) -- Teams in southern Japan are searching for an award-winning U.S. poet and college professor who failed to return from a hike to a volcano, his university said Thursday.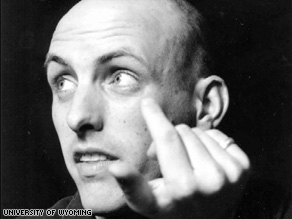 Craig Arnold was doing research for a poetry and essay book on volcanoes, a colleague said.
Craig Arnold, a 41-year-old assistant professor at the University of Wyoming, did not return from his Monday hike to a volcano on Kuchinoerabujima, a small island just west of Yakushima, the school said.
"The only clues that [searchers] have found were indications that he had begun the ascent -- footprints on the trail," said Peter Parolin, head of the university's English department, citing Arnold's family.
Arnold, a creative writing professor, was doing research for a poetry and essay book he is writing about volcanoes, Parolin said.

See where island is located »
A team of 60 people, with helicopters and search dogs, is looking for Arnold, according to the school. Japanese authorities have agreed to continue the search through Sunday, the university said.
Arnold, according to the school, wrote two award-winning volumes of poetry: "Shells," chosen for the Yale Series of Younger Poets in 1999; and 2008's "Made Flesh."
His work has been anthologized in several volumes of the Best American Poetry Series, and his awards and honors include a Fulbright Fellowship and the Joseph Brodsky Rome Prize from the American Academy of Arts and Letters, according to the university.
Arnold took the semester off from teaching and traveled to Japan alone through a U.S.-Japan creative artists' fellowship, Parolin said.
He had planned to spend a day alone at the volcano, and an innkeeper contacted authorities when he didn't return that evening, according to Parolin.
Arnold has scaled many volcanoes, Parolin said.
"If it's technical or dangerous, he does it with a guide. But from all reports, on this trip he went by himself," Parolin said.
Arnold "is the kind of person and poet who is attracted to extreme places and extreme geographies -- places that not all of us visit," the University of Wyoming English department head said.
"He feels the need to go to places that people don't go and come back and tell us about them," Parolin said.

A press officer at the U.S. Embassy in Japan said he couldn't confirm whether Arnold was missing, citing privacy law. However, he said the U.S. Air Force sent four Okinawa-based helicopters to the area Thursday at the embassy's request to assist with what he believed was a search operation on Kuchinoerabujima.
The Air Force helicopters, from Kadena Air Base in Okinawa, were on an unrelated mission in the area when they were diverted, he said.
E-mail to a friend

All About University of Wyoming