ISLAMABAD, Pakistan (CNN) -- Pakistan's military intensified its drive against the Taliban in the country's restive tribal regions Wednesday, reclaiming a key town in the northwest district of Buner.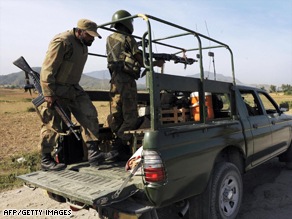 Pakistani troops on patrol close to the Buner district in the northwest of the country.
The military says it killed 50 militants in the operation, while one security officer was killed and three were wounded, Maj. Gen. Athar Abbas, a Pakistani military spokesperson told the press in Rawalpindi.
The operation freed 18 Frontier Corps personnel who had been abducted by militants, he said.
The military used helicopter gunships and coordinated with Pakistani police and the Frontier Corps.
Militants are using civilians as human shields, Abbas said, and have taken people in Buner hostage.
The operation may take a week, he added.
He said ISI, Pakistan's intelligence service which has historic links with the Taliban, was not supporting the militants.
Over the weekend, the military launched an offensive against suspected militants and their hideouts in Lower Dir, which neighbors the violence-plagued Swat area.
Airstrikes by Pakistani fighter jets killed 70 to 75 militants in the Dir district on Tuesday, and flushed out many more, Abbas told reporters.
Don't Miss
It is part of the Pakistani army's intensified drive against the Taliban in its restive tribal regions. The Pakistani government has been criticized for not cracking down on militants along its border with Afghanistan. As a result, the U.S. military has carried out drone attacks against militant targets in Pakistan, which have rankled relations between the two countries.
But Pakistan's recent military crackdown has led to an exodus of civilians from the region. At least 33,000 residents have left their homes in the midst of the recent fighting, according to Amnesty International.
Civilians fleeing from Lower Dir in Pakistan's North West Frontier Province join more than 500,000 people already displaced by the fighting, the U.N. High Commissioner for Refugees said.

The Pakistani military on Tuesday completed its operation to eliminate and expel militants in Dir, and is now focusing on the Buner district, Abbas said. About 300 militants entered Buner a few days ago, in violation of the Taliban's recent agreement to leave the district, he said.
Buner is about 100 kilometers (60 miles) from Islamabad, but Abbas said the militants pose no threat of entering the capital. The fighter jets pounded targets in Buner and the Swat Valley in an effort to block the militants' entry and exit points, according to Abbas.
E-mail to a friend

CNN's Samson Desta contributed to this report.
All About The Taliban • Pakistan