ISLAMABAD, Pakistan (CNN) -- Pakistani fighter jets pounded Taliban targets in the country's northwestern region Tuesday, part of a wider military crackdown on militants inside its borders.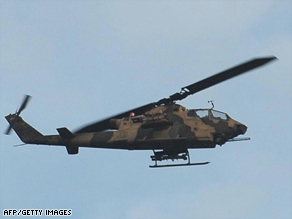 A Pakistan army gunship flies over the troubled Dir region on Monday.
The airstrikes killed between 70 and 75 militants in the Dir district and flushed out many more, military spokesman Gen. Athar Abbas told reporters.
It is part of the Pakistani army's intensified drive against the Taliban in its restive tribal regions. The Pakistani government has been criticized for not cracking down on militants along its border with Afghanistan. As a result, the U.S. military has carried out drone attacks against militant targets in Pakistan, rankling Pakistan.
But Pakistan's recent military crackdown has led to an exodus of civilians in the region. Between 15,000 and 30,000 residents have left the Dir district, which is less than 160 km (100 miles) northwest of the capital, Islamabad, according to an aid agency operating in the region.
The Pakistani military on Tuesday completed its operation to eliminate and expel militants in Dir and is now focusing on the Buner district, Abbas said.
About 300 militants entered Buner a few days ago in violation of the Taliban's recent agreement to leave the district, he said.
Buner is about 60 miles away from Islamabad, but Abbas said the militants posed no threat to the capital city.
Don't Miss
Fighter jets pounded targets in Buner and the Swat Valley in an effort to block the militants' entry and exit points, he added.
The general also released a recording of what he said was a conversation between a regional Taliban commander, Maulana Fazlullah, and some of his lieutenants. On the call, the purported Taliban leaders discuss how to stage an announced retreat from Buner last weekend while remaining in control of the territory.
"Those who will remain there will stay apart, so that the world gets to know that Taliban have left Buner," one of the commanders says, according to the transcript. "Not more than two Taliban should sit on a vehicle. Moulvi Sahib will lead. Other vehicles will follow."
Showing off for news organizations "is all right, but we have to implement a permanent plan," Fazlullah said.
Pakistan's government insists that its military crackdown has growing popular support for taking on the Taliban -- an issue that has divided the Pakistani people, particularly in the Pashtun areas.
"The government has been hesitant and divided in going after these guys, but public opinion -- judging by what I read in the Pakistani newspapers -- may be shifting," analyst Michael Krepon told CNN.
"They have thought the Taliban is America's war, " said Krepon, a co-founder of the Stimson Center, a Washington-based think tank. "We led them to that conclusion with our drone attacks on Pakistani soil."
But he warned that a Pakistani military operation against what is sometimes perceived as "going after its own people" will not be an easy task for the government.
"The military will go into the field and reclaim territory, but it's not going to be pretty and it's not going to be easy," he said.
Amnesty International's Asia Pacific director Sam Zarifi told CNN he thinks the test for Pakistan's government is not a military defeat over the Taliban, but "whether the schools will once again open, whether the health units will once again operate (in Buner)."
He also warned that a Pakistani military operation could be worse than Taliban rule in Buner and other regions.
"What people are telling us over and over again from Buner, from Swat, and other areas, is that they're very intimidated, very scared about life under the Taliban," Zarifi said. "But what really frightens them is the idea that the Pakistani military will launch operations."

He said that local residents have told Amnesty in recent months that Pakistani military operations have "destroyed houses, destroyed markets, without in any way impacting the Taliban."
"And that's what really frightens people," he said. "We've seen over 500,000 people are now registered as displaced from areas and most of those are people who are afraid of military operations."
E-mail to a friend

CNN's Samson Desta, Nic Robertson and Tricia Escobedo contributed to this report.
All About The Taliban • Pakistan