(CNN) -- British Prime Minister Gordon Brown reiterated the UK's commitment to the war in Afghanistan during a surprise visit to the country and warned that a "crucible of terrorism" existed in the Taliban-dominated border region with Pakistan.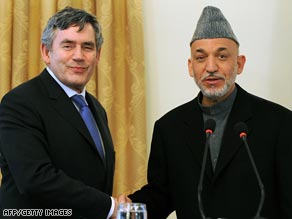 British Prime Minister Gordon Brown met Afghan President Hamid Karzai on Monday.
Brown held talks with Afghan President Hamid Karzai in Kabul on Monday after earlier visiting British troops fighting as part of the NATO-led international coalition in Helmand province.
Brown said the UK's 8,300-strong troop deployment would be temporarily raised to 9,000 during Afghan elections due to be held in August.
He said that the mountainous border region between Afghanistan and Pakistan was a "breeding ground" for terrorism, and that tackling extremism in the region would make the UK more secure.
"There is a crucible of terrorism in the mountainous border between Afghanistan and Pakistan," Brown said. "Our approach to these countries is different, but must be complementary. Our strategy for dealing with this breeding ground for terrorism will mean more security on the streets of Britain."
British forces suffered 52 deaths in Afghanistan in 2008; their worst year since their deployment to the country in 2001.
Brown said a strategy for dealing with the border regions would be unveiled on Wednesday.
"We cannot sit by and allow this centre or epicentre of terrorism to continue to exist without taking further action," he said.

Watch U.S. troops redeploy from Iraq to Afghanistan »

"That's why we want to strengthen the Afghan forces, police and army, and that's why also we want co-operation with the Pakistan authorities to deal with terrorists and terrorist threats in their area.
"I believe we all have a common interest in this: Afghan people are losing their lives as a result of terrorist action; British soldiers have lost their lives as a result of terrorist action; civilians in Pakistan -- I think it was 2,000 last year -- have lost their lives as a result of terrorist action."
E-mail to a friend

All About Afghanistan • The Taliban • Gordon Brown