By Ivan Watson
CNN





ISLAMABAD, Pakistan (CNN) -- Taliban militants who implemented Islamic law in Pakistan's violence-plagued Swat Valley last week have now taken control of a neighboring district.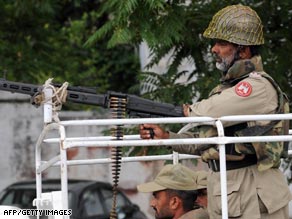 Pakistani paramilitary troops patrol a street in Islamabad on Tuesday.
Control of the Buner district brings the Taliban closer to the capital, Islamabad, than they have been since they started their insurgency. Islamabad is 96 kilometers (60 miles) from the district.
"Our strength is in the hundreds," said Moulana Mohammad Khalil, as heavily armed men openly patrolled the roads in pickup trucks, singing Islamic anthems.
The militants had taken control of the area to ensure that Islamic law, or sharia, is properly imposed, Khalil said.
The government called the advance into Buner a breach of a recently-signed peace agreement.

Watch as Taliban is emboldened »
"Now Taliban are violating the peace agreement, and if they continue the government will take strict action and not allow the Taliban to create a parallel government in that area," said Mian Iftikhar, a spokesman for the regional administration in the North West Frontier Province, where Buner is located.
Last week, the Taliban imposed sharia law in Swat Valley as part of a peace deal with the government. Under the Taliban's strict interpretation, the law prevents women from being seen in public without their husbands or fathers.
Earlier this month, the militant movement made forays into Buner and clashed with locals before withdrawing.
Now the Taliban appear to have returned in force -- a move that indicates the recent government concessions may have emboldened the militants to expand their reach.
The Pakistani government appears unable or unwilling to stop the Taliban's steady advance deeper into the territory of this nuclear-armed country.
In the days after the government's April 13 decision to implement sharia law in Swat, pro-Taliban clerics have staged rallies in Swat and Islamabad. They have demanded the imposition of Islamic law across Pakistan and beyond.
Speaking before an audience of tens of thousands in the Swat Valley town of Mingora on Sunday, cleric Sufi Muhammed declared democracy and Pakistan's judicial system "un-Islamic."
A Taliban spokesman in Swat went a step further Tuesday, calling anyone opposed to his strict interpretation of Islam a non-Muslim. IReport:Should the U.S. interfere in Pakistan?
"Let the judges and the lawyers go to Islamic university," Muslim Khan said. After "they learn Islamic rules, Islamic regulation, they can continue to work."
Don't Miss
The rise of the Taliban in Swat has alarmed and frightened some members of local civil society there.
"This is a time bomb for the country," said Aftab Alam, the head of the lawyers' association in Swat district.
Meanwhile, in another Taliban-run region called Orakzai, details emerged of militants forcing a small community of Sikhs to pay a jaziya, or "minority tax," of 10.5 million rupees (roughly $130,000) earlier this month.
Khan said if his vision of an Islamic society is fulfilled in Pakistan, terror mastermind Osama Bin Laden will be welcome to travel and live openly here. "Sure, he's a Muslim, he can go anywhere," Khan said.
Khan added that he would like to see sharia law implemented beyond Pakistan, even in America, a country he knows intimately. For four years, the Taliban spokesman lived in the United States, working as a painter near Boston, Massachusetts.
U.S. Secretary of State Hillary Clinton warned Wednesday that Pakistan is in danger of falling into terrorist hands because of failed government policies.

"I think that we cannot underscore the seriousness of the existential threat posed to the state of Pakistan by continuing advances, now within hours of Islamabad, that are being made by a loosely confederated group of terrorists and others who are seeking the overthrow of the Pakistani state, a nuclear armed state," Clinton said in Washington.
She added the international community is working closely to combat extremism in both Pakistan and Afghanistan, but Pakistanis themselves need to take responsibility.
E-mail to a friend