(CNN) -- Tens of thousands of Sri Lankan civilians fill a tiny strip of coastal land controlled by Tamil Tiger rebels, according to satellite imagery released Tuesday by the U.S. State Department.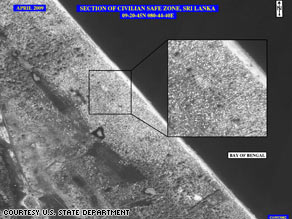 Satellite imagery released by the U.S. State Department shows large numbers of Sri Lankan civilians in April.
Officials are concerned about the fate of civilians, saying the recent satellite image shows 25,000 tents in the area and that 125,000 people were trapped between the two fighting forces. About 60,000 of them escaped in recent days, the department said.
Human-rights groups accuse the Liberation Tigers of Tamil Elam (LTTE) of using civilians there as human shields against the government forces' advance in what the State Department believes could be a final assault.
"The 26-year-old conflict is at a decisive point. We see the potential for major developments in the next 48 hours," acting Deputy Assistant Secretary for South Asia Michael Owen told reporters.
Rights groups and and international officials are also concerned that government forces are shelling the area, which had been considered a "safe zone."

Watch what's being done to help trapped civilians »
Owen urged the government and Tamil rebels to "exercise maximum restraint to protect civilians who are trapped by the fighting and allow free movement of civilians out of the conflict zone."
The Sri Lankan government has refused international pleas to call a cease-fire to allow civilians to leave the 20 square-kilometer (8 square miles) area -- the last strip of land still held by the rebels.

Watch Sri Lanka's foreign minister discuss the government response »
Meanwhile, two Tamil Tiger leaders -- one a former spokesman for the rebel group -- have given themselves up, the Sri Lankan army said Wednesday.
Daya Master, who once handled the rebels' media coordination, surrendered to the troops, Sri Lankan military spokesman spokesman Udaya Nanayakkara told CNN.
George, a translator for the rebels, also surrendered, he said. George is known by one name.
"We are talking to them," Nanayakkara said.
The Sri Lankan government says it is on the verge of ending its long conflict with the rebels, who are seeking an independent state in Sri Lanka's northeast. As many as 70,000 people have been killed since the conflict officially began in 1983.
The Tigers have been declared a terrorist organization by 32 countries, including the United States and the European Union.
A midday deadline for Tamil Tiger rebels to surrender passed on Tuesday after a weeks-long assault by the army.
The Sri Lankan army launched an operation against the Liberation Tigers of Tamil Elam in the country's north on Monday, with the military claiming to have rescued 35,000 civilians trapped in a government safe zone.
Rebel Web site TamilNet reported heavy shelling, rocket fire and gunfire. The rebels reported casualty totals exceeding 1,000.
Don't Miss
"Hundreds of dead bodies and wounded civilians were still lying in Maaththa'lan and Pokka'nai," a Tamil correspondent reported.
The International Committee of the Red Cross thinks the overcrowded government safe zone is a recipe for a humanitarian disaster.
"What we are seeing is intense fighting in a very small area overcrowded with civilians who have fled there," Pierre Krahenbuhl, the Red Cross director of operations, said in a statement released Tuesday. "The situation is nothing short of catastrophic. Ongoing fighting has killed or wounded hundreds of civilians who have only minimal access to medical care."
U.N. Secretary-General Ban Ki-moon said Monday that he remained deeply concerned about the potential for large-scale casualties despite reports that thousands of civilians in Sri Lanka had been freed after being caught in an area between government forces and rebel fighters.

"The U.N. is increasing its efforts to provide the required humanitarian assistance, and will continue to do all it can to ensure conditions fully reflect international standards," Ban said.
Ban condemned the continued use of heavy weapons near civilians and stressed the "imperative for U.N. staff to be allowed into the conflict zone to facilitate relief operations and the evacuation of civilians. It is also important to ensure the sustainable resettlement of these internally displaced persons as soon as possible."
E-mail to a friend

CNN's Elise Labott, Evan Buxbaum and Harmeet Shah Singh contributed to this report.
All About Sri Lanka • Liberation Tigers of Tamil Eelam