NEW DELHI, India (CNN) -- India's child-rights watchdog has sought a report from police investigating allegations by a tabloid that the father of a "Slumdog Millionaire" child star tried to sell her to an undercover reporter, the watchdog's leader told CNN.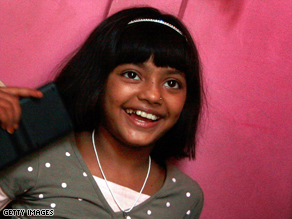 Rubina Ali has backed her father over newspaper allegations he offered her to an undercover reporter.
"We have sought a report from them and will take a decision after seeing it," said Shantha Sinha, who heads the National Commission for Protection of Child Rights.
Meanwhile, authorities in Mumbai have recorded the statements of Rafiq Qureshi; his "Slumdog" daughter, Rubina Ali; and his former wife, Khurshida Begum, senior police inspector Prakash Salunke told CNN.
Qureshi has denied allegations made in Britain's News of the World that he tried to sell 9-year-old Rubina for £200,000 ($290,000), Salunke said.
In her statement, the child-actor favored her father, according to the police.
Qureshi's former wife, whom he divorced several years ago, endorsed the allegations leveled against him by the British newspaper.
Police are investigating, Salunke said.
"Slumdog Millionaire" won eight Oscars this year, including best picture.

Director Danny Boyle's rags-to-riches movie tells the story of a tea-boy at a Mumbai call center who earns a spot in the Indian version of the quiz show "Who Wants To Be a Millionaire?" He raises the suspicion of the show's host when, despite the lack of a formal education, he begins to answer the increasingly difficult questions with ease.
The movie is set largely among the poverty-stricken districts of Mumbai, which is home to Rubina and other "Slumdog" child stars in real life.
E-mail to a friend