By Leisha Chi
For CNN





(CNN) -- To celebrate Earth Day this year its organizers have returned to environmentalism's roots.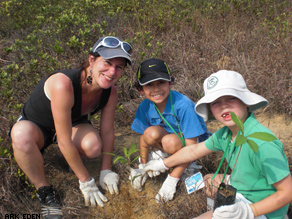 Jenny Quinton runs environmetal education tours in Hong Kong.
Now in its 39th year, Earth Day 2009 will be marked on April 22 with the launch of the "Green Generation" campaign. It's an ambitious two-year plan that Earth Day's organizers hope will motivate people across the world to reverse environmental decline through a renewed focus on grassroots actions.
The day itself will be marked by events across the world, from gatherings at the National Mall in Washington D.C. to a two-day festival in Tokyo's Yoyogi Park. But the organizers hope that the festivities of the day itself will go further and help to usher in a revolution in minds and lifestyles.
"Earth Day is an entry point into environmentalism not just in the U.S. but increasingly world wide," Earth Day Network President Kathleen Rogers told CNN.
"But Earth Day has never been about a day," Rogers says. "It's always been about an individual doing something tied to a broader goal of government and corporations following their lead."
The aims of the Green Generation campaign are noble; they aim to spur the development of a green economy, reduce reliance on fossil fuels and promote ecologically-responsible consumption. The idea is that this can be achieved from collective small efforts such as buying locally produced products to larger scale projects, such as investing in innovative green technologies.
In the struggle to arrest climate change the main battleground may well be Asia home to more than 60 percent of the world's population. Aside from consuming a substantial chunk of the world's natural resources, environmental degradation has been severe among rapidly industrializing countries such as China and India.
According to the Earth Day Network, there are more than 40 events registered to take place in China, Japan, the Philippines, South Korea and India. But to environmentalists based in Asia, there is a dire need for more public awareness campaigns that continue throughout the year.
Those on the ground say that improvements are being made and that there are positive signs coming out of the region.
After attending a UN youth summit, Wilson Ang founded the Environmental Challenge Organization Singapore (ECO) in 2002, a non-governmental organization dedicated to promoting environmentally sustainable lifestyles for youth in Singapore.
Seven years ago, "everything was very raw. It was still about recycling and biodiversity conservation. There wasn't much commitment and nobody bothered about climate change and energy. Over the past few years it has changed significantly," said Ang.
Don't Miss
Through ECO Singapore, Ang has helped to mobilize the local community and garnered the support of Singapore government bodies on green initiatives such as nationwide beach cleanings, the creation of a green business think-tank and educational displays.
British environmentalist Jenny Quinton also sees positive signs of growing environmental awareness in Asia. The Hong Kong-based educator founded Ark Eden, a company that aims to preserve the ecological diversity of Hong Kong's Lantau Island through educational tours and workshops.
"In my experience once Chinese people know what the problems are and what they can do they are super-quick to help," says Quinton.
Like Ang, Quinton was roused to action not by an environmental campaign but a personal sense responsibility.
"I think we have no choice but be part of the green generation," said Quinton. "The children already are as they have to be. They have so much work to do because of the mess that the adult generation has made."
Critics of Earth Day suggest it has moved away from its original message of mass mobilization for the planet and morphed into another means for companies to pay lip-service to environmentalism and appear more eco-friendly.
Yet since its grassroots inception in 1970, the environment has become a mainstream international issue and Earth Day has snowballed into a popular worldwide celebration for the planet. Rogers says the green movement now has a momentum that has been unmatched in recent years.
"I think we all recognize that for various reasons, the last eight years have been a wasteland," she said. "It's been a wasteland in terms of accelerating climate change and in terms of U.S. leadership on climate change."
Rogers remains optimistic about the future and says U.S. President Barack Obama has been "very responsive" to Earth Day programs and goals.
The actions of Presidents and CEOs will remain as important as ever, but for Earth Day organizers it may well be through the continuous efforts of "Green Generation" leaders such as Ang and Quinton that the Earth may really have hope for the future.
E-mail to a friend

All About Nature and the Environment • Global Climate Change