BANGKOK, Thailand (CNN) -- Tensions calmed in the Thai capital on Monday after a week of widespread and sometimes violent political unrest.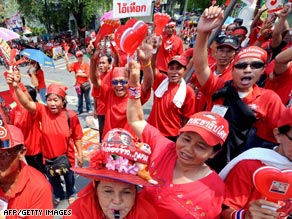 Protests in Thailand could scare away foreign investors.
The main protests that engulfed many parts of Bangkok have ceased. Supporters of deposed former Prime Minister Thaksin Shinawatra continue to gather in the evening, but do so peacefully.
The government is evaluating whether to lift an eight-day-old state of emergency, Panitan Wattanayakorn, a spokesman told CNN. The government will lift the order as soon as conditions allow, he said.
Thai Prime Minister Abhisit Vejjajiva told CNN on Friday that he would not lift the order until he was convinced the capital wouldn't "return to chaos and violence."
Also on Friday, a Thai protest group leader who helped topple Thaksin was shot and wounded on the way to host his radio talk show, according to a spokesman for his political party.
Sondhi Limthongkul, who underwent surgery, was expected to remain hospitalized until next week, a hospital official told CNN on Monday.
The shooting was the latest chapter in weeks of widespread political unrest in Thailand, pitting loyalists to Thaksin against Abhisit's supporters. Thaksin fled Bangkok last year while facing trial on corruption charges that he said were politically motivated. He was ousted in a coup in 2006.
Don't Miss
Asked how long the emergency decree would remain in place, Abhisit told CNN's Dan Rivers: "Days, days I would say. Obviously, depending on the turn of events. But we think we are on course to achieve order and stability, and we will do as best we can to lift it."
Abhisit declared the state of emergency on April 11, after protesters forced the postponement of a summit of Asian leaders in the southern coastal city of Pattaya, embarrassing the government.
The emergency measure allows officials to arrest and detain protesters without a court order, and to restrict gatherings, authorities said.
Immediately after Abhisit's state-of-emergency declaration, dozens of protesters stormed the country's Interior Ministry and pelted Abhisit's car with rocks, chairs, flags and sticks as he escaped.
Abhisit acknowledged: "There was no question that my life was seriously threatened," and he agreed that there was a moment when he thought he might be killed.
E-mail to a friend

CNN's Kocha Olarn contributed to this report