By Melissa Gray
CNN





(CNN) -- One of two aid workers still held by militants in the Philippines has been freed, the International Committee of the Red Cross said Saturday.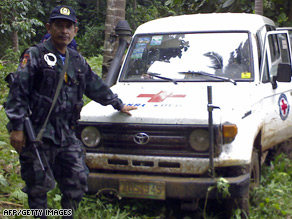 Police recover the abandoned vehicle of the Red Cross workers on Sulu in January.
ICRC officials spoke briefly by telephone to Andreas Notter and confirmed he is free, an ICRC spokeswoman in Geneva, Switzerland, said, but no other details were immediately available.
A doctor was with Notter as a precaution, Nelson said. He remained in the Philippines but his exact location was unclear, she said.
"Considering what he's been through over the past 93 days, he seems to be doing quite well but is obviously very concerned for (fellow hostage) Eugenio Vagni, whom he spent the past 93 days with," Nelson said.
The Philippine News Agency said Notter's captors released him Saturday morning.
The agency cited a military spokesman, Lt. Col. Edgard Arevalo, who himself cited "sketchy reports" that Notter was found by security forces cordoning off his kidnappers.
Notter was among three Red Cross workers kidnapped January 15 on the island of Sulu, in the far southwestern part of the Philippines, the ICRC has said.
Don't Miss
The kidnappers released one of the hostages, Mary Jean Lacaba, earlier this month. The third staff member, Eugenio Vagni, remains in captivity.
The three had been in the region to inspect a provincial prison and were on their way to the airport when they were seized by armed men riding motorcycles, the ICRC has said.
The ICRC has identified the kidnappers as being from the Islamic militant group Abu Sayyaf, which has been linked to the al Qaeda terrorist network.
Since the abduction, the organization has been working with the Philippine National Red Cross to free the staff members.
The ICRC visited the hostages at least once and spoke to them while in captivity, the aid group has said.
E-mail to a friend

All About Philippines