Fareed Zakaria is a foreign affairs analyst who hosts "Fareed Zakaria: GPS" on CNN at 1 and 5 p.m. ET Sundays.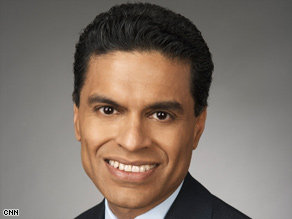 Analyst Fareed Zakaria says he's surprised that Karzai disagrees with a key Obama strategy in Afghanistan
(CNN) -- The Afghan government will change a law that critics say legalizes rape within marriage for Shia Muslims, President Hamid Karzai told CNN Thursday.
In an interview to air on Sunday's "GPS" program, Karzai told CNN's Fareed Zakaria that he and others were unaware of the provision in the legislation, which he said "has so many articles." Karzai signed the measure into law last month.
"Now I have instructed, in consultation with clergy of the country, that the law be revised, and any article that is not in keeping with the Afghan Constitution and Islamic Sharia must be removed from this law," Karzai said.
The president's comments came one day after several hundred demonstrators, mostly women, faced off over the law, which critics say prevents women from declining their husband's request for sexual intercourse and essentially legalizes marital rape.
The measure applies to the 20 percent of Afghans who are Shia Muslims. It was part of a nearly 270-page piece of legislation that was written to solidify the identity of the Shia minority in Afghanistan.
Zakaria spoke to CNN about other topics he discussed with Karzai.
CNN: Is President Karzai on board with President Obama's new Afghanistan strategy?
Fareed Zakaria: I was surprised when he repudiated what is perhaps the key American strategy: having U.S. military officers on the ground negotiate with local "reconcilable" Taliban members in order to enlist them into militias.
'Fareed Zakaria GPS'
Afghan president Karzai goes one-on-one with Fareed Zakaria on "GPS"
1 and 5 p.m. ET Sunday

According to the plan, those militias would then enforce local security and help to keep the peace.
President Karzai said that Americans will never be successful negotiating themselves -- that they must work through Afghanistan government officials.
"If you want to accomplish a local deal with a certain Taliban commander at a tactical level, good enough. But even that has to be done in agreement with the Afghan administration [government] at the local, provincial level. Without that knowledge in the Afghan administration [government], this peace process will not go anywhere."
CNN: What do you think of what's going on in Pakistan?
Zakaria: Well, there have been months of growing instability, and serious foreign policy analysts are now candidly speaking about the prospect of the collapse of Pakistan. David Kilcullen, a frequent guest on this program and once a key adviser to General David Petraeus, has said that we need to face the possibility that the Pakistani government could fail, and it could happen within a month.
CNN: Do you think that will happen?
Zakaria: I don't think it's imminent, but as Ahmed Rashid, author of the book "Descent into Chaos," says on our show this week, "Pakistan is in a very precarious position in its existence. I don't think it can immediately collapse -- it's a big country, 170 million people, very many different ethnic groups. But certainly the spread of the Taliban in Punjab is really critical."
Don't Miss
CNN: Why is it so critical?
Zakaria: The area Ahmed Rashid mentions, the Punjab, is the province that is home to more than half of the entire Pakistani population. As one Punjabi police official told a reporter, "If you want to destabilize Pakistan, you have to destabilize Punjab." The Taliban are successfully gaining greater influence in this region.
CNN: And what is going on in Pakistan is also affecting Afghanistan, right?
Zakaria: Yes, and Afghanistan remains unstable. Defeating the Taliban in Afghanistan might pave the way to lessen their power in Pakistan. Many observers agree that the best possible chance at all of this is to try to repeat what worked in Iraq. We divided our real enemies from those who we could buy onto our team. In military speak, we co-opted the reconcilables.
CNN: Do you think it will work?
Zakaria: It sounds simple, and it was, relatively, in Iraq. But it's not so simple in either Pakistan or Afghanistan.
First, Al Qaeda in Iraq was a foreign group with little sway over the locals, but the Taliban are native to Pashtun areas of Afghanistan and Pakistan, and therefore have built-in loyalties.
Second, the Sunnis in Iraq knew that they had to come on board with the Americans or they would face the fury of the Shiite majority. There is no comparable dynamic that scares the Taliban into our arms.
CNN: So what do we do?
Zakaria: Well, as everyone says, it's very complicated. It's also why this week's show is focused on getting to the bottom of what is going on with the Afghanistan/Pakistan situation.
We have Afghanistan's President Karzai as well as Ambassador Richard Holbrooke, President Obama's special representative for Afghanistan and Pakistan. I am sure you will learn a lot. Make sure you watch this Sunday.
E-mail to a friend

All About The Taliban • David Petraeus • Punjab