NEW DELHI, India (CNN) -- Indians are voting in their tens of millions in a monthlong general election that creates huge logistical issues in the world's largest democracy. The first round of polling was held on April 16. There are a further five voting phases before the final count is due on May 16.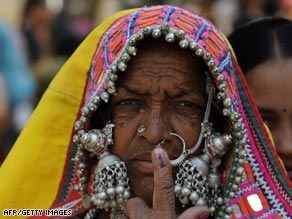 A Lambadi tribal woman shows her ink marked finger after casting her vote at Rangareddy District on April 16.
Prime Minister Manmohan Singh's Congress party, which currently leads the coalition government, seeks to retain power. But some of its political allies are reported to be forming other ties which could unseat Congress.
Here are some key facts and figures involved in the election.
MAIN PLAYERS
Sonia Gandhi: Widow of slain former Prime Minister Rajiv Gandhi, she heads the Congress party and the ruling United Progressive Alliance it led. The Italian-born 62-year-old lawmaker is likely to seek re-election from Rae Bareilly in Uttar Pradesh state. Faced with massive criticism from right-wing political rivals because of her foreign origins, she declined the prime minister's post in 2004 and named Manmohan Singh for the top job instead.
Manmohan Singh: Seen as the architect of India's economic reforms in the 1990s while serving as finance minister, Singh became the country's first non-Hindu prime minister in 2004. The 76-year-old Oxford-Cambridge educated economist is member of the upper house of the Indian parliament from the north-eastern state of Assam. As prime minister, he is credited with bringing India and the US closer and ending New Delhi's nuclear isolation through a civil nuclear cooperation agreement with Washington. The move led to his government losing key support of its left-leaning allies in 2008.
Don't Miss
Rahul Gandhi: The 38-year-old son of Sonia Gandhi is widely seen as a future prime minister. He seeks re-election from Amethi, a family stronghold in Uttar Pradesh state. A key figure in the Congress party, he first fought elections to the lower house, or the Lok Sabha, in 2004.
L K Advani: The 81-year-old is credited with the rise of his Bharatiya Janata Party (BJP), which became popular following his controversial push to build a temple to Hindu god Ram on the site of a 16th-century mosque. Advani was home minister and deputy prime minister in the Indian government. His party's prime ministerial candidate for the 2009 vote, he is seeking re-election from Gandhinagar in Gujarat state.
Mayawati Kumari: She is the chief minister of Uttar Pradesh. A Dalit, or lower caste member, she draws her support from her state's large population of "untouchables." The 53-year-old leader of the Bahujan Samaj Party (BSP) is trying to build her support elsewhere in the country and has made no secret of her ambitions to lead India
FAST FACTS
Voting Days: April 16, 23, 30, May 7 and 13.
Tabulation: May 16
Total boroughs: 543
Borough elections reserved for lower-caste and tribal candidates: 131
Polling Stations: 828,804
Total voters: 714 million
Total voting machines: 1.4 million
Total security: two million
PARTY NUMBERS
National: 7
State: 32
Registered but unrecognized parties: 1,000
NATIONAL PARTIES
Bahujan Samaj Party (BSP)
Symbol: Elephant
Party chief: Mayawati Kumari


Bharatiya Janata Party (BJP)
Symbol: Lotus
Party chief: Rajnath Singh
PM candidate: L K Advani

Communist Party of India (CPI)
Symbol: Ears of Corn and Sickle

Communist Party of India-Marxist (CPI-M)
Symbol: Hammer, Sickle and Star
Key leaders: Prakash Karat, Sitaram Yechury, Brinda Karat
Indian National Congress (Congress)
Symbol: Hand
Key leaders: Sonia Gandhi, Manmohan Singh, Rahul Gandhi

Nationalist Congress Party (NCP)
Symbol: Clock
Key leaders: Sharad Pawar, P.A. Sangma

Rashtriya Janata Dal (RJD)
Symbol: Hurricane Lamp
Party chief: Lalu Prasad
E-mail to a friend