From Elise Labott
CNN





WASHINGTON (CNN) -- The State Department Thursday called for a cease-fire between the Sri Lankan government and Tamil Tigers to allow civilians to escape the fighting after a two- day humanitarian pause ended with renewed violence.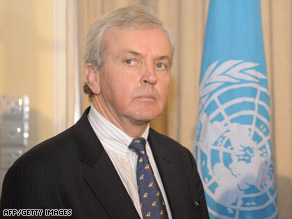 U.N. humanitarian chief John Holmes called the brief halt in fighting on April 12 "inadequate."
"We call upon the government and military of Sri Lanka, and the Tamil Tigers to immediately stop hostilities until the more than 140,000 civilians in the conflict area are safely out," Acting Spokesman Robert Wood said in a statement. "Both sides must immediately return to a humanitarian pause and both must respect the right of free movement of those civilian men, women and children trapped by the fighting."
Wood urged the government to halt shelling of the safe zone and allow international monitors to ensure the safe exit of the civilians. The government should also make sure camps for internally displaced persons have proper conditions and grant visas to international aid groups and give monitors and media access to the camps, his statement said.
The government of Sri Lanka has been battling the Liberation Tigers of Tamil Elam (LTTE) rebels in a civil conflict that has lasted nearly 25 years. The LTTE has been declared a terrorist organization by 32 countries, including the United States and the nations of the European Union. As many as 70,000 people have been killed since the conflict officially began in 1983.
A brief cessation of hostilities was announced by the Sri Lankan government on April 12 to allow the United Nations and its partners to bring in necessary aid, but a renewed government offensive has left civilians trapped in a war zone.
U.N. Secretary-General Ban Ki-moon and his humanitarian chief John Holmes called the brief halt in fighting "inadequate" and have pushed for a longer humanitarian pause in fighting.
The most pressing concern now, according to Holmes, is the fact that over 100,000 people are currently crowded in a "very small pocket of land" that is about five square miles, or about twice the size of New York's Central Park.
"It is a very small area indeed for what we believe is a very large number of people," Holmes told reporters Wednesday.
The crowded population, primarily comprised of Tamil civilians, is subject to the continuing Sri Lankan government assaults. The British and French foreign ministers released a joint statement as well on Wednesday, claiming that the LTTE is also using Tamil civilians as human shields.
Wood said the Sri Lankan government has "an opportunity to put an end to this lengthy conflict," by finding a political solution through diplomacy.
"Further killing, particularly killing of civilians, will not end the conflict and will stain any eventual peace," Wood said. "We call on the Sri Lankan government to put forward a proposal now to engage Tamils who do not espouse violence or terrorism, and to develop power sharing arrangements so that lasting peace and reconciliation can be achieved."
E-mail to a friend

All About Liberation Tigers of Tamil Eelam • Sri Lanka • United Nations