By Harmeet Shah Singh
CNN





NEW DELHI, India (CNN) -- Indians turned out in steady numbers Thursday to pick a new federal government in a mammoth month-long general election. But suspected Maoist insurgents marred the balloting in several areas with deadly attacks.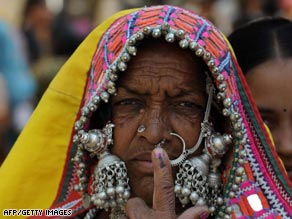 A Lambadi tribal woman shows her ink marked finger after casting her vote at Rangareddy District on April 16.
The elections, covering more than 3 million square kilometers of the planet, will run until next month in several stages of scattered polling. Then elections officials will count the vote electronically in a single day -- on May 16, three days after the last round of polling.
It is an exercise India undertakes every five years for its 1 billion-plus population. This year the country is voting in 543 boroughs of the Lok Sabha, or the lower house of the Indian parliament.
By Thursday afternoon, Maoists had launched at least four attacks. The rebels have been battling the government in several states in an insurgency that has resulted in thousands of casualties since the late 1960s. They claim to be fighting for the poor and the dispossessed.
Indian Prime Minister Manmohan Singh has called the rebels India's biggest security threat.
-- In eastern Jharkand state, suspected rebels triggered an explosion that forced a bus carrying border security troops to stop in the Latehar district.

See profiles of India's key leaders »
When the troops stepped out, the rebels attacked -- killing at least six in a three-hour gunbattle, said district deputy commissioner Sarvendu Tathagat.
-- In the state of Orissa, Maoists set fire to vehicles carrying poll workers, burned two electronic voting machines and ran off with four others in the Malkangiri district.
All six precincts will re-vote, said district police chief Satyabrata Bhoi.
ODD POLL STATIONS
Region: Lakshadweep
- 105 polling booths here are accessible only by boat

Region: Andaman and Nicobar Islands
- India's Andaman-Nicobar group of islands is a 700-km long borough. Commuting in many places on these islands requires 35-40 hours of travel by boat

Region: Arunachal Pradesh
- Four polling stations -- Lumta, Pakke, Mramboo and Upper Modoi Deep -- have just 3 voters each
- Many polling teams in Tawang, Kurung Kumey, Upper Subanisiri, Upper Siang, Mechuka, Dibang valley, Anjaw, etc, have to walk 3-4 days to reach booths from the nearest helipad/road
- The highest polling stations are located at Thinghbu at 12,148 feet, Mago at 12,248 feet and Luguthand at 13,157 feet. They are snow-bound and along the India-China border

(Source: India's election commission)

-- In Chhattisgarh state, about 100 suspected rebels raided two polling precincts, resulting in a shootout with police. Two security officials were confirmed dead and three wounded in the gunfight, said Rahul Sharma, the police chief of the Dantewada district.

-- In eastern Bihar state, suspected Maoists killed two officers in the city of Gaya .

Even before the elections got under way, suspected Maoists launched a series of attacks in eastern India. About 200 of them raided a border security base in Bihar on Wednesday. And earlier in the week, rebels laid siege to a bauxite mine in Orissa. They retreated after an hours-long shootout with federal security.

Watch the logistics of campaigning in India »
In the elections this year, 714 million registered voters are eligible to cast ballots. The number is up 43 million from the last vote.
That election, in 2004, brought the Congress party of Italian-born Sonia Gandhi to power as head of a coalition backed by the communists.
This year, the political parties are not fighting on any major national issue. Instead, political analysts say, post-poll agreements among groups from the right, left and center will determine which coalition, and in what form, will make up the next government.
The Congress party, which currently leads the United Progressive Alliance government, seeks to retain power. But some allies of the United Progressive Alliance have already reached a pre-poll agreement, to the exclusion of the Congress party.

More than 1,700 candidates were contending in Thursday's first phase of voting, the election commission said.
Two million security personnel are to guard the entire voting process, the commission said.
E-mail to a friend

All About Manmohan Singh • India