BANGKOK, Thailand (CNN) -- Authorities in Thailand Tuesday ordered the arrest of 14 anti-government leaders, including a former prime minister, a special branch police official told CNN a day after violent protests left more than 120 people injured and two dead.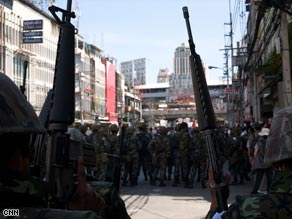 A wall of heavily-armed Thai troops closes in on protesters in central Bangkok.
Scores of riot police descended on anti-government protesters Monday, after weeks of demonstrations, to take control of Bangkok.
About 123 people, including more than two dozen soldiers, were wounded in the skirmishes, the government said Tuesday. Two more people were killed when protesters clashed with demonstrators supporting the government.
At least four leaders among the "red shirt" protesters -- named for their clothing -- surrendered to police, while others vowed to regroup and continue their movement to dislodge Prime Minister Abhisit Vejjajiva from office. It was not immediately clear which leaders were in custody.
Warrants have been issued for the arrest of red leaders including Thaksin Shinawatra -- the former prime minister -- Jakrapob Penkair, Veera Musikapong and Nuttavut Saikuea, said Maj. Gen. Tritot Ronnaritivichai, deputy commander of the special branch police.
Thaksin already faces a number of other arrest warrants for other alleged offenses. He is living abroad after being deposed in 2006. The red shirts are loyal to him.
The city was calm Tuesday, after Veera, one of the leaders of the United Front for Democracy Against Dictatorship, told supporters to suspend their rallies until after the Thai New Year.

Watch a report on the call for a suspension of rallies »
The new year, or Songkran, began Monday and is traditionally celebrated over several days. It is expected to wind down on Thursday.
Following Veera's call Tuesday, disappointed demonstrators tearfully left their last stronghold -- the government headquarters -- as soldiers in armored vehicles tightened their cordon around them.
The pull-back by the protesters breathed new life into Abhisit's four-month-old administration, which at one point appeared to lose control of the situation.
But after protesters forced the postponement of a summit of Asian leaders in the southern coastal city of Pattaya over the weekend, an embarrassed Abhisit declared a state of emergency in Bangkok and surrounding areas.
The next day, the government -- which had seemed unable to order the police to use force in tamping down the protests -- gathered the heads of the police, army, air force and navy and coordinated a military offensive.
Soldiers moved into the capital and dug in. They prevented protesters from outside the city -- where the cause of the red shirts is more popular -- from joining their comrades inside, effectively choking off their outside support.
Even early Tuesday, the demonstrators showed no signs their protests would fizzle hours later. See images from the protests
They set fire to two buses and chopped down trees to block police access to the Government House.
The violence was worse Monday, when demonstrators commandeered buses, rigged the steering wheels and sent them toward police officers, who fired at the vehicles in response. They hurled gasoline bombs, blocked intersections and set fires in many parts of the capital. Scores of riot police descended on the streets and fired tear gas canisters and live bullets.
COLOR CODE
RED SHIRTS
United Front for Democracy against Dictatorship
Support
Former Prime Minister Thaksin Shinawatra
Makeup
Mainly from outside the cities and the poor
Demand
More money to combat poverty
YELLOW SHIRTS
The royal color and symbol of the People's Alliance for Democracy
Support
Prime Minister Abhisit Vejjajiva
Makeup
Monarchists, wealthier Thais
Demand
Conservative economics and values and a strong military

The red shirt protesters want Abhisit to step down, saying his administration is not democratically elected. They want the prime minister to call new elections.

Abhisit has ignored their repeated deadlines to resign.

"He insists under the circumstances, where there is a lot of deep division in the society ... resigning won't solve any standing conflict," said his spokesman, Panitan Wattanayagorn. iReport: Numerous buses set ablaze

The demonstrators are loyal to Thaksin, who was ousted in a bloodless coup in 2006. He fled the country last year while facing trial on corruption charges that he says are politically motivated.

Thaksin has told supporters that he is willing to return to lead the demonstrators, which he repeated to CNN.

"Well, you know I am ready to go when the time is right," Thaksin said. "But now, I like to see peaceful protests by the demonstrators. Actually, you know, they are all innocent people. They come with bare hand; they are asking for true democracy and justice. But they got back undemocratic ways with a lot of brutal suppression."

Watch Thaksin denounce government »

For now, Thailand remains divided between the red shirts and the "yellow shirts," who back Abhisit.
Analysts say that what happens next will depend on how -- or whether -- Abhisit reaches out and tries to bridge the divide.
E-mail to a friend

CNN's Kocha Olarn and Dan Rivers contributed to this report.
All About Thailand • Thaksin Shinawatra