By Kevin Voigt
CNN





(CNN) -- As political protests ebb in Bangkok, business worries mount for Thailand and companies doing business there.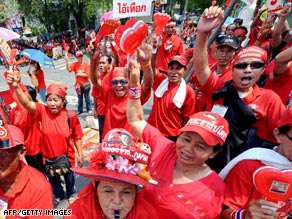 Protests in Thailand could scare away foreign investors.
Once a "Tiger economy" that grew at a brisk 10 percent a year during much of the 1990s, the Southeast Asian nation's economy is expected to shrink nearly 3 percent this year -- the most among developing East Asian nations -- according to a World Bank forecast released shortly before protests erupted last week.
It is the first time that Thailand's economy has been predicted to shrink since the 1997-98 Asian financial crisis.
Now economic predictions are expected to erode further as the Thai currency, the baht, continues to fall and credit rating agencies Standard & Poor's and Moody's consider downgrading the nation's debt rating.
"The big issue is whether this will affect general investment in Thailand, especially in the automotive industry," said Matthew L. Hildebrandt, an economist for JPMorgan in Singapore. For foreign companies "already operating there, they may think twice about expanding. ... For companies not there already, they may think twice."
Dubbed "the Detroit of the East," the Thai automotive industry already is taking a pounding because of the global slowdown in auto sales. The industry earns 12 percent of the nation's gross domestic product. BMW, General Motors, Honda, Isuzu and Toyota all have assembly plants in Thailand, which is the second-largest maker of pickups, according to the Thailand Automotive Institute.
"One incident like this may not stop someone from investing here, but this thing has been dragging on for three years," Hildebrandt said.
Taku Kimoto, general manager of automotive market researcher JD Powers Asia Pacific, said the unrest could affect the domestic market for automobiles, but is less likely to affect exports. "That is wholly dependent on the situation in overseas markets, not the local market," he said.
The unrest could delay a Thai economic stimulus package planned for 2010 worth up to 5 percent of the country's gross domestic product, Hildebrandt added. "If the government deteriorates, those plans are sure to deteriorate as well."
The tourism industry, which employs 2 million people, has proved remarkably resilient to past disruptions such as the Asian SARS outbreak, the 2004 Asian tsunami and the 2006 political coup in Thailand, said Ho Kwon Ping, chairman and chief executive officer of Banyan Tree Holdings, which owns a number of luxury hotels and spas in Thailand.

"So far, there have been no cancellations whatsoever" during the Easter and local Thai New Year holidays, Ho said of the popular vacation times that coincided with the violent protests.
"The real issue is whether there will be a decline in the pickup of business (after)," he said. "I expect business will pick up, assuming (the political situation) doesn't get worse and worse."
E-mail to a friend

All About Thailand • Thaksin Shinawatra