UNITED NATIONS (CNN) -- A week after North Korea ignored international warnings and launched a long-range rocket, the U.N. Security Council is considering a draft statement -- signaling members may be close to taking a formal public stance against the incident.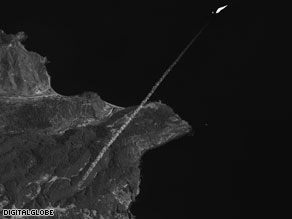 A satellite company says this image was taken shortly after North Korea launched the rocket.
"This draft is an excellent basis for a consensual and clear message by the Security Council," said Claude Heller, the current Security Council president and Mexico's U.N. ambassador, referring to a draft of a presidential statement.
The U.S.-drafted statement "sends a clear message to [North Korea] that their violation of international law will not be treated with impunity and indeed will have consequences," said Susan Rice, the U.S. ambassador to the United Nations.
The draft also calls on the U.N. sanctions committee to enforce existing sanctions against North Korea.
Heller said council members would consult with their heads of state before reconvening April 20 to go over any final changes to the draft and possibly vote on it.
The rocket launch on April 5 set off an immediate firestorm of criticism, inflamed tensions in the Far East and heightened fears over the North Korean regime's potential ability to undermine nuclear non-proliferation efforts.
The North Korean government insisted the act was a peaceful launch of a satellite into orbit, but U.S. officials declared it a "provocative act" in violation of a 2006 Security Council resolution prohibiting Pyongyang from conducting ballistic missile launches.
Don't Miss
The United States and Japan, among other countries, say the launch was a failure, but still called for the council to put out a strong response in the form of a resolution. The draft of the presidential statement appears to be a compromise.
A council response can come in several forms, including a resolution, a Security Council presidential statement or some other form of public condemnation.
Still, the U.N. ambassador from China, a council member and ally of North Korea expected to resist a resolution, has said the formal reaction to the reclusive nation should be "cautious and proportionate."
"We are now in a very sensitive moment," Ambassador Zhang Yesui said after an emergency council meeting last week. "All countries concerned should show restraint, and refrain from taking action that could lead to increased tension."
E-mail to a friend

All About North Korea • United Nations